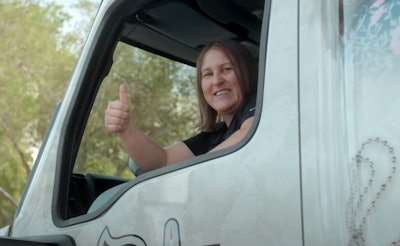 Marcia Luchenbill knows a bit about homecomings. As a former member of the U.S. Army, she had some of her own. And, being married to a fellow soldier she was also on the greeting end of some when her husband returned from deployments of his own.
That made her a natural to drive the latest edition to Knight Transportation's Fleet of Heroes. Luchenbill late last year took the wheel of a 2021 International with a special "Welcome Home" wrap that recognizes the families reunited after loved ones come home from deployments.
Luchenbill's truck joins two others in Knight's Fleet of Heroes. One depicts veterans from all branches of the U.S. military. The wrap on another shows numerous memorials honoring veterans including Arlington National Cemetery and Marine Corps War Memorial, which shows the familiar raising of the flag at Iwo Jima in World War II.
The wraps were created by AZ Pro. Each includes the legend, "We Served America Then. We Serve America Now" and the Knight "K" logo in red, white, and blue.
Luchenbill's truck was unveiled and she was introduced as its driver during ceremonies last Nov. 20 at Knight's North Office.
"It's really important to recognize, of course, our heroes who serve," said Luchenbill at the ceremony. "It's the whole family that serves, and I've been on both sides of that. I'm very, very honored to represent veterans and female veterans."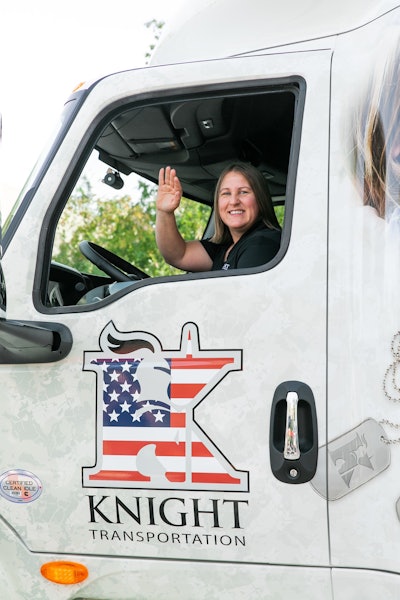 Knight Transportation has some 620 military veterans in its driving corps.
Luchenbill served four years in the Army, enlisting just a month before the Sept. 11 terrorist attacks on the World Trade Center and Pentagon in 2001. At the time she lived and worked restaurant jobs in New York City after growing up in Columbus, Ohio.
"I wanted to be part of something bigger than myself," said Luchenbill.
As a soldier, she served in the Army Signal Corps and was stationed for some time in Wiesbaden, Germany. But, that was at a time when things heated up in Iraq, and Kuwait and Luchenbill soon was in the first wave of troops sent in as part of Operation Iraqi Freedom.
She was part of a six-person team in three vehicles that traveled around the countryside to install communications satellite links and provide phone and internet services for U.S. troops. Often she ventured into remote parts of the country with combat troops.
She was deployed for 15 months, during which time she met another soldier who would become her husband.
After her time in the service ended, she and her husband Nicholas started their family, having three children in three years, a daughter, who is now 14, and two sons now 13 and 11. Marcia said that as a stay-at-home mom she did a lot of volunteer work over the years helping with school projects and even coaching soccer.
Her husband did two more tours and was eventually medically retired from service because of combat injuries.
While living in Texas and with Nicholas in college, the family decided to move to a location with better schools for their kids. But, the move brought with it more expenses, and Marcia decided to go back to work.
She said she had thought about truck driving as a career choice 20 years ago, but said, "I didn't see it as real and something you did." Back then it was "a pipe dream," she added.
But, Ft. Bliss in El Paso, Texas had a CDL training program and Marcia enrolled. In early 2020, just before the COVID-19 pandemic began heating up, she signed on with Knight and the former stay-at-home mom hit the road, driving dry van.
And, she is thrilled with her decision. She was quick to add that it matters not that she is a woman in a field dominated by men.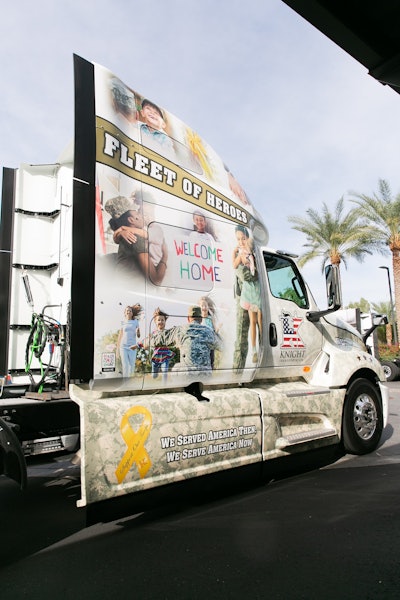 "It's not about being male or female," said Marcia. "This was the job I was supposed to be doing."
Today she runs a lot between Texas and the West Coast and parts of the Southwest. While she has been, at last count, through 35 states, she has yet to return to New York where her adult life began.
Her time in the military prepared her for the OTR life of a professional trucker. She said both roles are all about "hurry up and wait" and to "expect the unexpected." They also are all about knowing what matters and what doesn't.
"Traffic? That's nothing," said Marcia. "I'm not getting shot at (like in the Army) so that's OK. I also know what to complain about and what not to complain about."
Marcia said she gets home about every three weeks, and stays in touch with her husband, now an artist and photographer, and kids on a daily basis. Thanks to smartphones and mobile wifi in the truck, Marcia continues to handle some of the household chores back home in Texas.
This past summer, each of the kids spent time on the truck with her as she traveled. Her son David was with her when she received the "Welcome Home" truck and Logan went with her when she delivered to four cemeteries for the Wreaths Across America program.
No matter where she drives, Marcia said the truck's striking and emotional graphics get noticed. For good reason.
"I was pretty overwhelmed by the imagery on the truck," she said. "Families deserve to be recognized. The whole family serves. The whole family sacrifices. I'm just glad I can represent that. It's a real honor."
She also said it's a conversation starter. Be it veteran to veteran or family member to family member, Marcia said people come up to her and tell her their stories.
"This truck means a lot to a lot of people and I take that seriously," she said, adding thanks to Knight Transportation for the opportunity to be its driver. "This is what I'm supposed to be doing now, and I enjoy it. I really do."