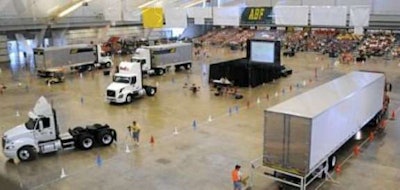 One of the American trucking industry's leading events has been canceled by the spreading COVID-19 coronavirus outbreak.
The American Trucking Associations' National Truck Driving Championships and National Step Van Driving Championships have been canceled. They were to be held Aug. 19-22 in Indianapolis.
ATA President Chris Spear made the announcement Monday, April 6, in a letter to truck drivers, ATA members, and state trucking association executives.
"Our industry's creed and the very spirit of these competitions is 'safety first,' and this decision reflects that," Spear wrote. "It's made out of an abundance of caution on behalf of the professional drivers competing at the state level, along with the state associations, companies, and family members who organize, host and cheer on the competitors."
Several state associations have already canceled their qualifying competitions.
Nex year's event will be held in Minneapolis.