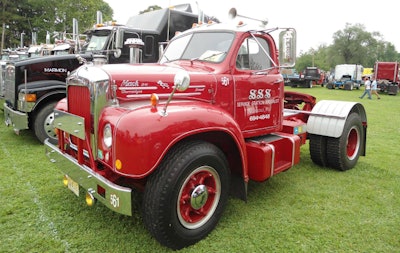 A fixture on the truck show circuit and rest areas in one New England state are the latest trucking industry victims of the COVID-19 coronavirus pandemic. In addition, one major trucking organization sent an impassioned plea for help to the White House.
New Hampshire closes facilities at rest areas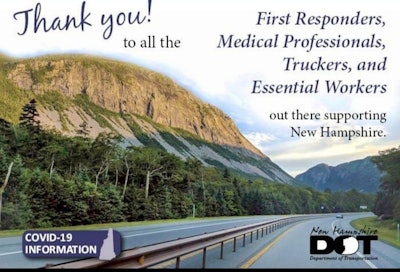 Several media outlets are reporting that New Hampshire is closing facilities at its highway rest stops at 4 p.m. Sunday afternoon, April 5.
At the closed rest stops, drivers will still be able to use portable toilets outside the rest stops. The state Department of Business and Economic Affairs promises the toilets will be cleaned regularly, according to a report in The New Hampshire Union Leader.
Only the Hooksett rest stops on Interstate 93 will stay open. That rest area is operated by a private company.
Truckers News has contacted the New Hampshire Department of Transportation, the Department of Business and Economic Affairs and the New Hampshire Motor Transport Association for more details. We have yet to hear back from them.
Macungie truck show canceled
One of the longest-standing and most popular vintage truck shows has been canceled because of the COVID-19 coronavirus outbreak.
The Antique Truck Club of America Friday, April 3, announced its 2020 National Meet in Macungie, Pennsylvania has been canceled. It was scheduled for June 19 and 20.
It said its 50th anniversary show will be held June 18 and 19, 2021.
The club posted to its Facebook page:
"After thoughtful consideration, The ATCA Board of Directors has decided to cancel the 2020 National Meet at Macungie. Concern for the health and safety of our members combined with government social restrictions left no alternative."
ATCA said refunds will be made for show preregistrations when its offices reopen.
The club also suggested its member chapters consider canceling their shows. "We ask you to carefully consider if it would be wise to cancel or reschedule your chapter meetings and functions including shows during this period of crowd size restrictions."
The Arizona Trucking Association reports that the state's Department of Transportation has temporarily reopened two long-shuttered northern Arizona rest areas for use by truckers only.
The Parks Rest Area along Interstate 40 west of Flagstaff (milepost 182) and the Christensen Rest Area on Interstate 17 south of Flagstaff (milepost 324) offer parking, portable toilets and handwashing stations exclusively for truckers.
The Christensen rest area closed in 2002 and Parks closed in 2009. There are no plans to reopen either rest area permanently, according to ADOT.
OOIDA sends Mayday to White House on behalf of truckers
On Friday, April 3, the Owner-Operator Independent Drivers Association sent President Donald Trump a strongly worded plea for help as truckers continue driving as the COVID-19 coronavirus spreads.
Under the heading "Help – MAYDAY – 9-1-1," the letter from OOIDA President and CEO Todd Spencer told Trump:
"Urgent and immediate action is demanded to safeguard our nation's supply chain.
"Small-business truckers and professional drivers are the vital link to it all, putting their lives on the line for the good of the nation."
Spencer closed his letter saying:
"We need a plan for them. We need help. Do it."
The letter explained truckers drive through areas where there are significant outbreaks of CORONA-19, do not have access to personal protective equipment, and may not even know if or when they may be becoming sick.
Spencer said "testing must be available where they are, particularly on busy truck routes. And testing must show results in hours, not days. Along with that we need a strategy for treatment or quarantine that could take place at nearby motels."
In his letter, Spencer also warned Trump of possible dire consequences if drivers do contract the virus. "Once word spreads that drivers are testing positive, we could very well see a tremendous reduction in drivers willing to risk everything for the rest of us," said the letter, which also was sent to the Department of Homeland Security, the Department of Transportation and the Department of Health and Human Services.
Arizona driving competition canceled
On Friday, April 3, the Arizona Trucking Association decided to cancel the 2020 Arizona Truck Driving Championship.
In a statement on its website, the association said:
"We do not make this decision lightly, but after great discussion, the committee thought it best to focus on the crisis at hand. We recognize that during this unprecedented time we must dedicate all our attention to keeping our drivers, employees, vendors, friends, and families safe.
"We are grateful to the committee volunteers who have worked so hard to put together the event. We will come back stronger in 2021."
The latest COVID-19 numbers
The latest figures show some 276,000 Americans have tested positive for the COVID-19 coronavirus. The number of deaths has surpassed 7,000. New York state remains the nation's epicenter of the outbreak with more than 3,000 deaths.