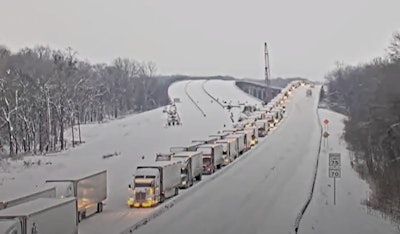 A series of accidents in Arkansas Wednesday, Feb. 17, led to a 19-mile-long backup on Interstate 40 eastbound near Little Rock that saw hundreds of tractor-trailers stranded on the highway, some for as long as 16 hours.
Winter weather conditions caused the initial accident, which included several tractor-trailers. Then the backup began and continued. It wasn't until about 4 a.m. Thursday, Feb. 18 that I-40 reopened and the backlog of traffic cleared.
State police went truck to truck to wake drivers once the traffic was able to get moving again.