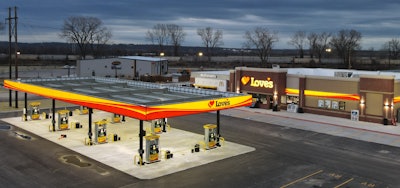 The newest Love's Travel Stops store opens today in Kansas City, Missouri. Located off Highway 210, the new truck stop has115 truck parking spaces.
The new location is open 24/7 and has:
McDonald's
Eight diesel bays
Seven showers
Laundry facilities
Speedco
Fresh Kitchen concept
Mobile to Go Zone for electronics
CAT scale
Dog park
RELATED: Love's adds new chicken dishes to its menu.
"We're excited to open our 18th location in Missouri," said Greg Love, co-CEO of Love's. "This location, along with food and drink options available like the new chicken lineup introduced this week, make it easy for professional drivers and four-wheel customers to get back on the road quickly and safely."
Love's Travel Stops & Country Stores has more than 550 locations in 41 states.