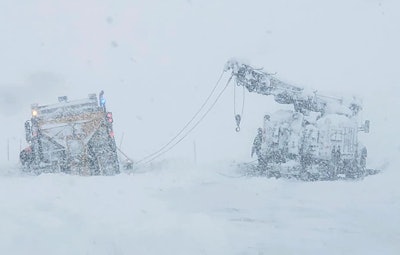 Some major highways remain closed today as parts of Wyoming, Colorado and northwest Nebraska continue to dig out from what was of the most powerful winter storms anywhere in the U.S. this season.
Some truckers report being stopped or delayed for several days because of the weekend-long winter storm that dropped more than 27 inches of snow on Denver, and more than 25 inches in Cheyenne, Wyoming. The blizzard conditions and record-setting snows closed numerous highways, leaving many truckers waiting out the storm at truck stops or travel centers.
A check of the Wyoming Department of Transportation's 511 road conditions pages shows sections of Interstates 80 and 25 closed. Parts on Interstate 70 in Colorado are closed and high wind warnings posted for others.
More than 2,000 flights were canceled at Denver airport over the weekend, and schools throughout the region were canceled. Some power outages continue.
Meanwhile, as the storm moved on, Oklahoma, Arkansas, and Missouri faced heavy rains, high winds, flooding, and possible tornadoes.
Truckers News today reached out on Facebook to drivers whose trips were interrupted by the storm. Their responses included:
Dave Allen: I've been in Colby, KS since Saturday evening. Was supposed to deliver today.in Aurora, CO. I-70 westbound has been closed since yesterday so. Here I sit. No big deal. I have food water SiriusXM radio. We can't control the weather. just got to roll with the punches.
Enrique Martinez: In Rawlins, WY. TA truck stop I-80 east still closed since Saturday.
Cyndi Bryan: In Sidney, NE waiting for 80 to open.
Eric Hopkins: Ummmm... it snowed, they closed roads.... what more is there to know?
Aimee Burchfield: Just hanging out in Nebraska waiting for the gates to lift.
Alex Hamilton: I been shut down in Laramie (WY) since about 4 p.m. Saturday.
Christine Truckie Norris: Parked in Grand Island, NE. Wyoming still closed...parking full closer to Wyoming.
Jay Garnett: Am in Grand Island, NE at the Bosselman's. Place has been packed since yesterday. Have oversize, can't go anywhere till Wyoming opens up,
Debbie Wilson: In Casper WY, truck stop still digging out. The roads are still closed.
Sawyer B Hind: Stuck in Cheyenne since Saturday.
Duane Wettstein: Grand Island is completely packed.
Leighann Blanton: In Lincoln, Nebraska, waiting 4 80 2 open.
We also checked in with the three major truck stop chains to find out what the storm had done to their business.
"Currently, all of our locations are open and stocked," said Caitlin Campbell of Love's Travel Stops. "Road closures may lead to temporary delivery disruptions or drivers being stranded, but our team members are prepared to take care of customers as long as it's safe to do so."