The National Weather Service has bad news for truckers who have to drive through parts of the Rocky Mountains between now and Monday evening. And, to be honest, things aren't all that rosy if you're driving through the Plains and Mississippi Valley.
Here's the weather service's bad news in a nutshell:
A vigorous storm system digging into the Southwest will gradually spread into the South-Central portion of the U.S. on Friday and the weekend. This will set the stage for a high-impact Spring storm featuring heavy snow (Central Rockies/Plains), severe thunderstorms (Southern Plains into Mid/Lower Mississippi Valley) and heavy rain with flooding (South-Central Plains into Mid Mississippi Valley).
The weather service has issued winter storm watches for parts of Colorado and Wyoming. The forecast calls for a lengthy storm that could cover Denver with as much as 2 feet of snow and deliver 3 feet to Boulder, Fort Collins, and into Wyoming. Snowfall rates will reach between one and three inches per hour, and strong winds are expected to make conditions worse.
The National Weather Service in Denver posted to Facebook: "A winter storm watch has been issued for Friday evening through Sunday night. This could be a high-impact event with near-impossible travel on Saturday."
AccuWeather's Chief On-Air Meteorologist Bernie Rayno said the region can expect "one of the biggest snowstorms we've seen all year."
Rayno added travel impacts from the weather are all but certain. He added, "I-25 and I-80 may get shut down late Saturday into Sunday."
AccuWeather adds, "Forecasters warn that unnecessary travel should be avoided from Saturday afternoon through Sunday."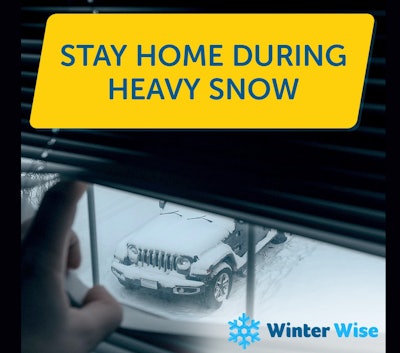 In addition, the weather service says, "Portions of Utah and Arizona could see over 6 inches of snow by Saturday morning. Heavy mountain snow and lower elevation heavy rain will also remain possible across southern California through Friday."
The Colorado Department of Transportation is asking motorists to stay off the highways during the storm, and suggests it could close some highways if the weather is too severe.
Here's the current outlook and advise:
Heavy accumulations are possible along I-70, I-25 and other highway corridors in the foothills and the Front Range. Heavy snow is expected along the I-70 mountain corridor to the Eisenhower Memorial Johnson Tunnel.

Here is what motorists need to know:

If you are planning to travel the I-70 mountain corridor for a weekend in the mountains, head to your destination before the storm, before Friday evening.
Regardless of your destination, get there before the storm hits.
Avoid traveling on impacted roads during the storm, throughout the Denver metro area, on the I-70 Mountain Corridor and I-25 South Gap construction zone between Castle Rock and Monument. CDOT is likely to close these roadways for safety reasons depending on the severity of the storm.
It is also possible I-70 east of Airpark Road and other roadways in the Eastern Plains may close depending on the severity of the storm.
CDOT crews will be out in force and plowing roads, focusing on clearing I-25, I-70 and impacted interstates. They will make multiple passes on these roads during the storm and will not be able to plow the secondary routes until the worst of the storm has passed. This means many roadways could be heavily snow packed, making for hazardous driving conditions.
During a significant and high impact snow storm, travel should be limited to emergency and essential reasons with the proper vehicle and tires for heavy snow. Do not attempt to drive in such weather conditions unless you have the appropriate tires with good tread. Motorists should leave ample distance behind the vehicle ahead and not pass plows. If you are out in the storm, have an emergency kit with blankets, food, batteries, water, a shovel and survival supplies should you get stuck or stranded.
It's best to stay off the roads ina heavy snow event.
For more information on preparing for the snow, chain and traction laws and other winter storm related guidance, go to winter.codot.gov

Stay Informed

Travelers are urged to "know before you go." Gather information about weather forecasts and anticipated travel impacts and current road conditions prior to hitting the road. CDOT resources include: