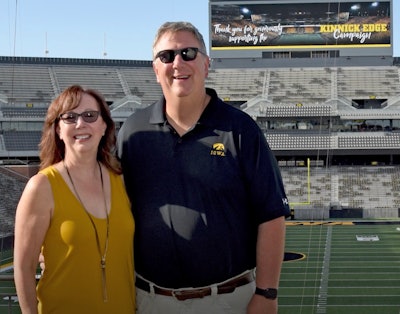 The couple who own the Iowa 80 Truck Stop has made a large donation to the University of Iowa athletics program.Totaling $10 million, the donation by Will and Renee Moon includes funds for:
The creation of a new endowment fund that will support the needs and advancement of the Hawkeye football program.
The establishment of the Will and Renee Moon Excellence Fund, which will provide unrestricted support for Iowa football and other athletics initiatives, as determined by the Henry B. and Patricia B. Tippie Director of Athletics Chair.
Support for the Kinnick Edge Campaign, which revitalized Kinnick Stadium's north end zone seating and concourse.
In recognition of the Moons' support, Kirk Ferentz and all future UI head football coaches will hold the title of Moon Family Head Football Coach.
"As we have become better acquainted with Will and Renee, it has become very clear they embody a true spirit of generosity," says Ferentz, the winningest coach in Iowa history and longest-tenured football coach in the nation. "Their commitment in making this gift, in the midst of a pandemic, is a remarkable commitment to their belief in our programs and student-athletes."
Will Moon is a 1979 Iowa graduate. Renee Moon received her undergraduate degree from Iowa in 1984 and graduated from the school's College of Dentistry in 1988.
A news release from the university's Athletic Department said "the Moons hope their gift demonstrates Iowans' continued commitment to the program during this challenging year financially for college athletics. 'Everybody wants to support when things are going good; it's easier to do that,' says Will. 'But in more difficult times, that's the time you really need to step up. And it won't be difficult forever.'"
Spring practice is already underway, and the Hawkeyes expect to open their 2021 season Sept. 4 with a home game against Indiana.