Two longtime truckers this morning were recognized for their professionalism on the road and service to their communities.
The announcement of this year's winners of the Travel Centers of America Citizen Driver Awards was made by TA President Barry Richards this morning on the Dave Nemo Show on Sirius XM Radio.
Winners included:
Dan "Dusty" Porter, of Acton, Ontario, Canada, who drives for Werner Enterprises
Don Talley, of Muncie, Indiana, who is a driver for Carter Express
Chosen from 85 nominations, the professional drivers have a combined 73 years of hauling freight, with nearly six million accident-free miles. The two winners have a Travel Centers of America location named in their honor. The Glendale Kentucky location will be named in Porter's honor and the one in Gaston, Indiana will bear Talley's name. They will also have $2,500 donations made to charities of their choice.
"Each year, our Citizen Driver Program honors those who go above and beyond in their service to customers and the community. Their commitment to delivering our nation's goods, no matter the weather conditions or circumstances, is what keeps our country moving," said Barry Richards, president of TA. "Last year, Americans were reminded of the essential role professional drivers play in their everyday lives, as the industry quickly rose to meet unprecedented challenges during the COVID-19 pandemic. We want to continue to share these drivers' stories and demonstrate why they deserve respect and recognition year-round."
About Dan Porter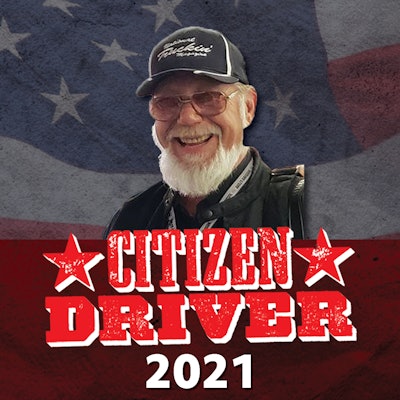 Also known as Dusty, his 52-year career includes 3.8 million miles of accident-free driving. He is well known among the trucking community for his photography, especially for trucking charities and other organizations.
In its announcement, TA said Driving a truck is Porter's full-time job but photography has also been a favorite pastime. He has spent countless hours taking photos for trucking non-profit organizations, donating the photos to the groups as a way of paying it back to the industry.
Porter has chosen the Petro in Glendale Kentucky to be dedicated in his name and is going to split his $2,500 donation between St. Christopher Fund and Truckers United for Charities.
About Don Talley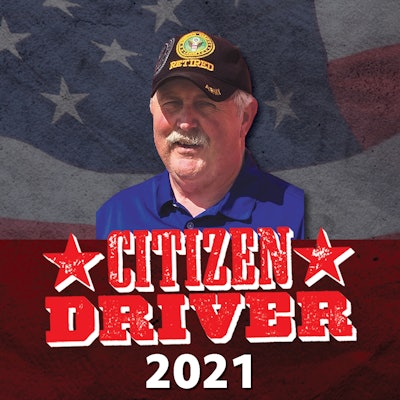 Talley is a U.S. Army veteran and has spent the last 21 years as a professional driver, logging 1.95 million accident-free miles.
He learned to drive a big rig while serving in Saudi Arabia and was active in both the Vietnam War and Operation Desert Storm in the 20 years he was in the Army. served our country. He has earned numerous decorations including the Soldier's Medal for risking his life to save a woman pinned to the side of a cliff, the highest honor a soldier can receive for an act of heroism not related to combat. He also was awarded a Bronze Star and a Purple Heart for sustaining injuries while saving lives in a combat setting, after an Army truck full of ammunition caught fire and Talley rescued the soldiers trapped inside.
Last year, Talley formed the Road Dog Crew to promote funding and representation of the St. Christopher Truckers Relief Fund and Truckers Against Trafficking. Don also volunteers with Feed My Sheep, a Muncie non-profit with a mission to ensure all families in the area have a meal to share at Thanksgiving. He is an active member of his church and its food pantry with his wife.
Talley chose the Petro in Gaston, Indiana to be dedicated in his name. The St. Christopher Truckers Relief Fund will receive his $2,500 donation.
Travel Centers of America started the awards program in 2013. Since then, it has recognized 35 drivers, who have amassed 1,025 years of driving experience and 112 million miles on the road.
Porter and Talley were chosen from a field of 85 nominees by a panel of judges that included:
The following distinguished members of the trucking industry served as this year's judges:
Eric Harley, on-air host of Red Eye Radio/Cumulus Media
Donna Kennedy, executive director of St. Christopher Trucker Relief Fund
Dave Nemo, on-air host, Road Dog Media/Dave Nemo Entertainment
Chris Spear, president and CEO of American Trucking Association
Todd Spencer, president, Owner-Operator Independent Driver Association
Ellen Voie, president and CEO of Women In Trucking