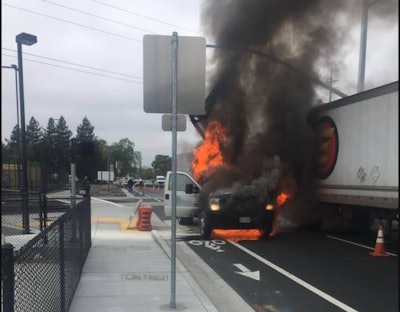 Efrain Angel Zepeda's 6-year-old son talks about his dad in the same breath as Spider-Man and Batman, and for good reason.
Although he was not in any sort of superhero costume on Friday, April 16, the 32-year-old Zepada was as about as heroic as a truck driver can be, risking his own life to save another's.
A local driver for Estes Express Lines, a major LTL carrier based in Richmond, Virginia, Zepeda was sitting in Santa Rosa, California's traffic at about 9 a.m. That's when he heard a knocking on the passenger side door of his tractor-trailer. Sgt. Bill Harm of the California Highway Patrol was pounding on the door and had a request of Zepeda, who has been driving professionally for about two and a half years.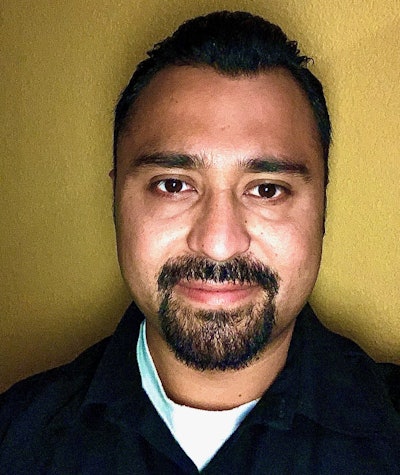 Harm asked the trucker if he'd be willing to pull his rig out of traffic and alongside a utility bucket truck that was on fire. Harm explained the truck's operator was in the extended bucket above the street and the fire had killed the bucket's controls. The only way down was for Zepeda to pull alongside the burning truck and position the trailer so the stranded worker could jump onto it to safety.
"I didn't have to think about it said," Zepeda. "I told him, 'Let's do it.'" And, they did.
Sgt. Harm got other drivers in front of Zepeda to move out of his way. Zepeda then pulled out of traffic and eased up directly next to the bucket truck that was totally engulfed in flames. He said he kept one eye on Sgt. Harm and the other on the flames, which were perilously close to his right aside fuel tank.
"That was the scary part," said Zepeda, who lives with his wife and three children in Windsor, a suburb of Santa Rosa.
As Zepeda waited and watched, the bucket truck operator jumped to safety, and Sgt. Harm signaled Zepeda to move ahead. Shortly after he did, the utility truck exploded and the extended bucket collapsed into the street.
A coworker brought a ladder for the utility worker to climb off Zepeda's trailer. The rescue took all of about 10 minutes, but it seemed forever as it unfolded, Zepeda said.
"The guy came to thank me," said Zepeda. "I could see he was really scared. but he was really grateful too."
And, it wasn't just Zepeda's son who appreciated his dad's heroics. So did an Estes Express Lines executive.
"It is nothing short of a miracle that our driver, Efrain, was there just as this individual needed rescue from such a dire situation," said Webb Estes, the company's vice president of process improvement. "Enough can't be said about the quick thinking by the police to request Efrain's assistance and his bravery and immediate actions that allowed the worker to escape without serious injury by jumping onto our trailer. At Estes, the safety of everyone on the road is our highest priority and Efrain's heroics exemplify this to the fullest."
Driving a tractor-trailer is something that has been on Zepeda's mind since childhood.
"Since I was a little kid I played with cars and trucks," said Zepeda."
He eventually found bigger trucks and spent time as a tow truck driver before getting into an 18-wheeler. And, it seems it was a perfect match.
"I really love my job," said Zepeda, who makes local deliveries to businesses and residences. " The company, and my coworkers, it's a really good team."