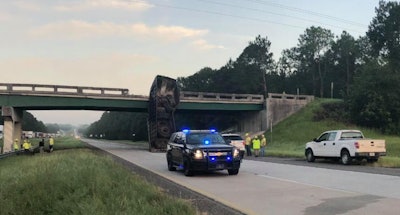 Freight movement in the South will take yet another hit as a third bridge-related problem causes detours and construction-related delays.
On Thursday, July 15, the raised dump trailer of a truck slammed into a bridge over Interstate 16 in Georgia, dislodging it from its supports and shutting down traffic on the interstate that connects Atlanta to the Port of Savanah on the Atlantic Coast.
Demolition began this morning on the bridge that carries Ga. 86 over I-16. It is located about halfway between Macon and Savannah.
A seven-mile-long section of I-16 is expected to be closed for the weekend. Traffic will then be reduced to one lane in each direction as construction takes place.
Detours have been created by GDOT:
Westbound Detour: Take Exit 78- Turn Right onto Highway 221 North, Left onto US 80 West, go through town of Adrian, Left onto State Route 15, Re-Enter I-16 at Exit 71
Eastbound Detour:Take Exit 71 – Turn Right onto Highway 15, through Soperton, Left onto State Route 46, Left onto State Route 56, Re-Enter I-16 at Exit 78
There is no estimate as to when a new bridge will be in place or the cost of the project.
No details were given about the driver of the truck that struck the bridge.
This is the third time in about eight months that a major freight corridor in the South has been affected by damages to a bridge.
Last November two trucks collided on the I-75 bridge over the Mississippi River between Kentucky and Ohio. Traffic on this vital freight corridor was disrupted for more than a month.
Work continues on the I-40 bridge between Arkansas and Tennessee after a routine inspection found major damage to an important structural member.