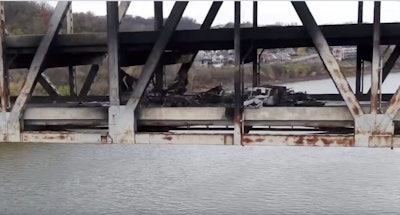 Truckers who rely on the Brent Spence Street Bridge to cross from Ohio into northern Kentucky and vice versa will have to continue taking detours until about Christmas as repairs are made on the double-decker span that was damaged in a truck collision and fire last week.
Kentucky Gov. Andy Beshear Monday said he expects the bridge that carries Interstates 75 and 71 over the Ohio River between Covington, Kentucky and Cincinnati to be repaired and reopened to traffic by Dec. 23. Kokosing Construction Company of Westerville, Ohio, has been awarded a $3.1 million contract to start repairs immediately.
Kentucky Secretary of Transportation Jim Gray said the bridge did not suffer any significant structural damage when two tractor-trailers collided Wednesday, Nov. 11 at about 2:30 a.m. One of the trucks carried potassium hydroxide, which caught fire. The blaze took more than two hours to extinguish.
It's estimated the bridge carries more than $400 billion in freight each year.
Until repairs are completed, truckers and others will have to use one of several alternative routes. The detours include:
Through traffic traveling NB on I-75/71 from Kentucky is being detoured at I-275 WB to I-75 NB or I-275 EB to I-471 NB and then to I-71 NB
I-71 SB traffic is being detoured to I-471 SB and then to I-275 WB
I-75 SB traffic is being detoured to I-275 WB
Additional detour options in and around Cincinnati include I-471, I-71, I-74 and I-275, and U.S. 50, but expect heavier than normal traffic
Local traffic can use I-471 (Daniel Carter Beard Bridge) between Cincinnati and Newport, the Clay Wade Bailey Bridge (U.S. 25), and the Taylor Southgate Bridge (U.S. 27)
Local passenger vehicle (noncommercial) traffic may also use the John A. Roebling Bridge (KY 17). Heavy trucks and buses are prohibited on the bridge