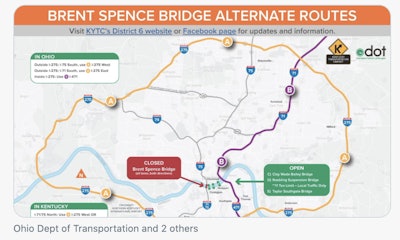 The federal government is making available emergency funds to pay for repairs to the bridge that carries Interstates 75 and 71 over the Ohio River between Kentucky and Ohio. A collision between trucks and resulting chemical fire last week damaged the bridge that is a major freight route through the Midwest and beyond.
On Friday, U.S. Transportation Secretary Elaine L. Chao announced the availability of $12 million in "quick release" emergency relief funds from the Federal Highway Administration to help begin repairs on the Brent Spence Bridge.
"These funds will help the safe and timely repair of the Brent Spence Bridge, which is such an important transportation link between Kentucky and Ohio and one of the busiest freight corridors in our nation," said Chao.
Authorities first said the bridge could be closed for several days to several weeks. That estimate has been revised to the bridge being closed possibly through at least the end of the year.
It's estimated by a regional development agency that some $400 billion worth of goods cross the 56-year-old double-decker bridge each year. Replacement of the bridge, which had been deemed "functionally obsolete", has been under study for almost 20 years.
The span has been closed since the early morning hours Wednesday, Nov. 11, when one tractor-trailer jackknifed on the bridge and was struck by another. One of the trucks was carrying potassium hydroxide, which caught fire. The corrosive chemical burns at about 1,500 degrees and damaged the structure. Neither truck driver was injured in the crash.
Both Cincinnati and northern Kentucky have been working to reroute traffic. Here are the latest detours:
Through traffic traveling NB on I-75/71 from Kentucky is being detoured at I-275 WB to I-75 NB or I-275 EB to I-471 NB and then to I-71 NB
I-71 SB traffic is being detoured to I-471 SB and then to I-275 WB
I-75 SB traffic is being detoured to I-275 WB
Additional detour options in and around Cincinnati include I-471, I-71, I-74 and I-275, and U.S. 50, but expect heavier than normal traffic
Local traffic can use I-471 (Daniel Carter Beard Bridge) between Cincinnati and Newport, the Clay Wade Bailey Bridge (U.S. 25), and the Taylor Southgate Bridge (U.S. 27)
Local passenger vehicle (noncommercial) traffic may also use the John A. Roebling Bridge (KY 17). Heavy trucks and buses are prohibited on the bridge
Video of the Brent Spence Bridge fire damage that will leave it closed for weeks pic.twitter.com/kUGqbFfRMq

— Matt Jones (@KySportsRadio) November 11, 2020