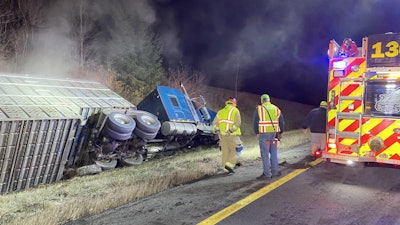 A tractor-trailer loaded with cattle rolled over on Interstate 81 in New York Friday morning, killing five of 40 animals on board.
The mishap occurred at about 3:30 a.m. in the Town of Virgil in Cortland County south of Syracuse. The Cortland County Sheriff's Office said the 26-year-old truck driver fell asleep and drove into the center median and tipped over. The trucker had minor injuries.
The driver was issued a citation for driving across hazard markings, officials said.