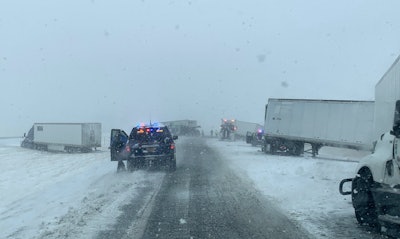 The Oregon Department of Transportation is reporting a section of Interstate 84 in the eastern part of the state is closed by high winds and heavy snow.
ODOT reports "about a dozen trucks" have slid off I-84 between Exit 216, (6 mi. east of Pendleton) and Exit 302 in BakerCity. The agency said it expects the closure "will last for several hours while the crashed trucks are cleared from the freeway."
Also, OR 204, Tollgate Highway, is closed between MP 10 – 40, 11 miles east of the intersection with OR 11, Oregon-Washington Highway, due to high winds, heavy snow, and the potential for downed trees. Only local traffic is allowed on this route.
ODOT warns heavy snow, wind and possible whiteout conditions continue to be expected. throughout some areas of eastern Oregon.
The agency urges truckers and others to use
TripCheck.com
for updated conditions before you head out or call 511 (503-588-2941 if outside of Oregon).