While work continues to assess the damage and begin repairs to a major bridge that carries Interstates 75 and 71 over the Ohio River, officials suggest the major connection between Ohio and Kentucky may remain closed not for days but for the "next several weeks."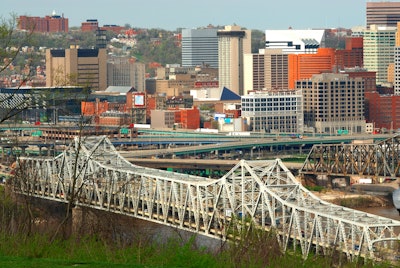 The bridge was heavily damaged Wednesday, Nov. 11 when two trucks collided and caught fire in the early morning hours. One of the trucks was hauling potassium hydroxide, which caused the resulting fire to burn hotter and for a longer period of time, according to local fire officials. Neither driver was injured in the crash.
The collision closed the bridge, which is a key route for local commuters and truckers. The Ohio Department of Transportation estimates an average of 160,000 vehicles per day cross the bridge.
On Thursday, Kentucky Gov. Andy Beshear said, "Everyone recognizes the importance of the Brent Spence Bridge and the entire I-71 and I-75 corridor. We are committed – fully committed – to reopening this bridge as quickly as we can, provided it is fully safe for everyone that would cross it. I want to emphasize our need for patience and also planning for your personal and business disruption that's going to be occurring for at least the next several weeks. We need a little patience as well until we can give you an official timeline."
Earlier Beshear said, "We know how important this bridge is to the region and to the commerce of our nation."
Here's how to get where you're going until the Brent Spence Bridge is repaired and open to traffic:
All I-75/71 NB traffic from Kentucky is being detoured at I-275.
Westbound I-275 traffic can reconnect with I-74 and I-75 after making a brief trip through Indiana.
Eastbound I-275 traffic can connect to I-471 North and I-71 north. Drivers can also stay on I-275 and connect to other northbound arteries past the city limits.
Southbound I-71 traffic is being detoured to I-471 south and I-275 south, where drivers can reconnect with I-71/75.
Southbound I-75 is being detoured to I-275 west.
Officials say detours onto I-471, I-71, I-74 and I-275 and U.S. 50 are open but drivers should expect heavier-than-normal traffic.
Local traffic can use I-471 (Daniel Carter Beard Bridge) southbound into northern Kentucky and cross the 4th Street Bridge over the Licking River and cut to I-75 south.
Drivers can also use the Clay Wade Bailey Bridge (U.S. 25), and the Taylor Southgate Bridge (U.S. 27) to get to and from Downtown without using the interstate.
The nearby John A. Roebling Suspension Bridge was closed by police because of "numerous and continued violations of the bridge's weight limits," Covington Police said earlier this week. That bridge may be reopened soon, but not to commercial traffic. The Roebling opened in 1867, and has an 11-ton weight limit that was put in place after a 2007 inspection and is not suitable for traffic from semis.
Detours are in place while the Brent Spence Bridge is closed to help travelers cross the river. Here's a helpful map of alternate routes you can use. #BSBUpdates pic.twitter.com/ahCgdtdZJC

— KYTC District 6 (@KYTCDistrict6) November 12, 2020