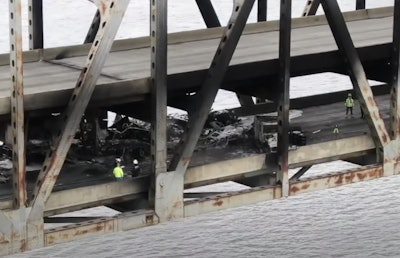 Truckers who have relied on a bridge carrying traffic on Interstate 75/71 over the Ohio River between Cincinnati and northern Kentucky will need to find a different route for several days or as much as several weeks.
Kentucky Gov. Andy Beshear today said the Brent Spence Bridge, which was heavily damaged by fire early Wednesday, Nov. 11, will be closed for several days, possibly weeks. Two trucks — one carrying potassium hydroxide — collided on the northbound lower deck at about 2:45 a.m. Wednesday, and the resulting fire took several hours to extinguish. The fire also damaged the upper deck, which carries southbound traffic.
Northbound Interstate 71/75 in Kentucky is closed at Interstate 275, according to the Kentucky Transportation Cabinet, and inspection of the 56-year-old, double-decked, steel bridge was to have started this morning.
Beshear said he suspects the bridge can be repaired, but said it would not be reopened until it is safe enough for him to "take my own family across it," according to the Cincinnati Enquirer.
Neither trucker was injured in the incident.
Another bridge over the Ohio River has also been closed indirectly because of the fire. The John A. Roebling Suspension Bridge is closed indefinitely "due to numerous and continued violations of the bridge's weight limits," Covington (Kentucky) Police said late Wednesday. It appears some vehicles rerouted to the Roebling, a historic bridge that opened in 1867. However, the Roebling has an 11-ton weight limit.
Video of the Brent Spence Bridge fire damage that will leave it closed for weeks pic.twitter.com/kUGqbFfRMq

— Matt Jones (@KySportsRadio) November 11, 2020