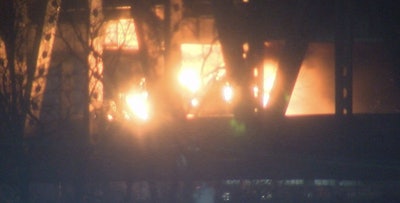 A collision between two trucks and a resulting fire this morning closed a bridge and both northbound and southbound Interstate 75 in Covington, Kentucky.
It is being reported the blaze began at 2:45 a.m. when two northbound trucks crashed on the Brent Street Bridge over the Ohio River. One of the trucks, a box truck, was hauling 110 pounds of potassium hydroxide and burst into flames, according to police. The blaze was extinguished by 7 a.m., but cleanup and repairs are expected to take some time. Neither driver was reported to have been injured.
Police closed I-75/71 northbound at Interstate 275 in Kentucky. The bridge is expected to be closed for at least a couple of days.
The Brent Spence Bridge is a double-decker bridge that carries Interstates 71 and 75 across the Ohio River between Covington, Kentucky, and Cincinnati, Ohio. The top deck carries Kentucky-bound traffic while the bottom deck carries Ohio-bound traffic.
We have confirmed it was caused by a crash involving a truck carrying potassium chloride. We don't know when the bridge will reopen but I was just told it "will probably be closed down for an extended period." https://t.co/2VGLMqXtVo

— Clancy Burke (@clancyburke) November 11, 2020
Major traffic impacts this morning due to an accident/hazmat incident on the northbound (lower deck) of the I-75, Brent Spence Bridge, entering @CityOfCincy. Expect lengthy delays & detours as I-75 north & southbound will be closed for an undetermined amount of time. pic.twitter.com/cum9C1KSNv

— Cincinnati Police Department (@CincyPD) November 11, 2020