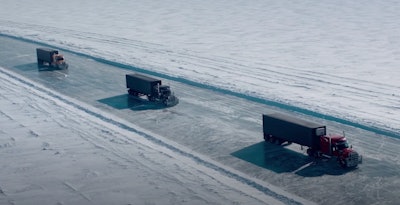 Let's get this straight right from the jump, The Ice Road, this summer's big action thriller streaming on Netflix, is not a feature-length version of the smash-hit reality TV show, Ice Road Truckers. Not even close, and that's rather too bad.
That being said, the streamer starring grumpy action star Liam Neeson at his 69-year-old grumpiest, is an hour and 47 minutes worth of action in a film that's an hour and 48 minutes long. While the film and its actors will not get Oscar nominations, The Ice Road is entertaining and wildly suitable to watch while parked at a truck stop after a day of driving.
But, watch it with a grain of salt, and we don't mean the kind you put on your popcorn. The Ice Road is fictionalized entertainment. Period. Keep that in mind when you get tempted to dissect how Neeson and his costars (Lawrence Fishburne and Amber Midthunder) drive their Kenworths across the frozen lakes on a time-sensitive rescue mission. And, cut Marcus Thomas some slack as Neeson's brother, a skilled mechanic suffering from PTSD and aphasia.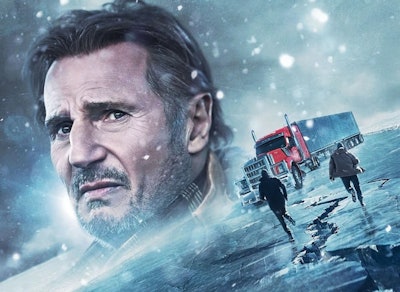 With your disbelief -- and skilled truck driver knowledge -- willingly suspended, it's possible to enjoy The Ice Road and not feel it betrays the professional fraternity/sorority that is North American trucking.
In short, The Ice Road revolves around the need to get life-saving equipment from Winnipeg to a diamond mine that collapsed trapping miners. The only way to do it is to cross the ice roads that have already been closed for the season and are beginning to look more like water than ice.
Fishburne is the small fleet owner charged with getting the equipment delivered. He, Neeson and Midthunder take control of Kenworths loaded with three sets of the wellheads and pipe needed to rescue the trapped miners, including, it turns out, Midthunder's brother. Thomas is along to fix things that break, and Benjamin Walker is onboard as the corporate beancounter meant to keep an eye on things ... or so director and screenwriter Jonathan Hensleigh would have us believe.
RELATED NEWS: "Ice Road Truckers" Lisa Kelly talks about Darrell Ward
Shortly after the three of them get on a frozen lake things go badly for Fishburne, and Neeson and Midthunder are left to soldier on. It seems that with each passing mile, things get worse and worse. Trucks roll over or break through the ice. There's an avalanche and a bridge collapse. There are repeated fight scenes, no small amount of gunplay, explosions and even bad guys on snowmobiles. Oh, and there's corporate greed and villainy to boot. All the while, time is running out to save the miners who are just about out of oxygen.
When all is said and done, The Ice Road is well worth its hour and 48 minutes running time and a month's subscription payment to Netflix. Hensleigh does a good job of moving the story along and giving you characters to like and some to despise. In short, he keeps you engaged, and that's a good thing.
But, if you're going to watch it and insist on pointing out all of the trucking inaccuracies, you're better off finding episodes of Ice Road Truckers on YouTube and reconnecting with Lisa Kelly, Todd Dewey, Art Burke and others from that series.