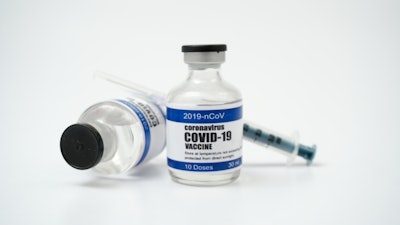 A recent Truckers News poll found fully one-third of truckers would tell their employers to fire them if they were required to get vaccinated against the COVID-19 coronavirus. Another 16% say they would quit on their own if they faced a mandated jab.
As the Delta variant continues to drive up the number of new COVID cases, hospitalizations, and deaths, many employers are requiring all or some of their workers to be vaccinated or face frequent testing. The list of companies requiring some sort of vaccination and/or testing routine for employees includes Amtrack, AT & T, CVS, Delta Airlines, Facebook, Ford Motor, Google, Microsoft, and Tyson Foods.
Also on that list is UPS. However, the vaccination/testing mandate appears to not apply to its front-line workers, including delivery drivers.
In an article on our sister publication Commercial Carrier Journal, one expert suggests carriers mandating a COVID jab could exacerbate existing recruitment and retention problems many already face.
That's borne out in the Truckers News poll. More than 1,000 people responded to our question: "What would you do if the company you drive for required you to get the COVID vaccination?" The complete results showed:
33% said they would make their company fire them before they would get vaccinated
25% said they were already vaccinated
16% said they would quit
15% said they would claim an exemption based on religious beliefs or health concerns
6% said they would get vaccinated
Those results are at odds with the outlook of most Americans. A recent poll by the Associated Press and NORC Center for Public Affairs Research found 50% of working Americans favor requiring employees working in person be fully vaccinated against COVID-19. Also, 52% support a requirement for employees working in person at their workplace to wear face masks.
The Delta variant of the original COVID-19 coronavirus has caused considerable increases in the number of cases, hospitalizations, and deaths. The number of COVID-related deaths in the U.S. is averaging 1,500 per day for the first time since March even as more Americans get vaccinated.
Recent data show:
53% of Americans of all ages are fully vaccinated
62%. of those 12 years and older are vaccinated
82% of those aged 65 or older are fully vaccinated
To date, there have been 39.9 million COVID cases reported. There have been almost 650,000 deaths in the U.S. attributed to COVID.