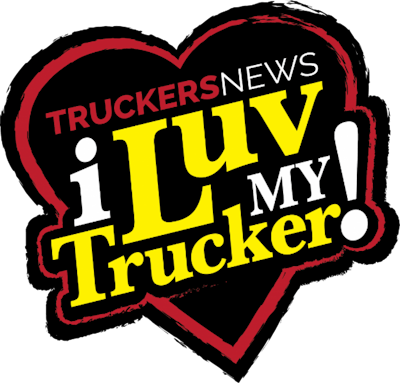 National Truck Driver Appreciation Week is just around the corner. That's the time many carriers, truck stops, and other businesses make an extra effort to thank professional drivers for their hard work and dedication.
But, there are others who don't just appreciate the truck driver in their lives, but actually and truly love them. Those are the folks we want to hear from as we once again ask them why they say, "I Luv My Trucker."
That driver may be a spouse, a parent, a child or just a special friend who happens to drive a truck. Regardless of your connection, Truckers News wants to hear from you.
Telling us about the trucker you luv is easy. Click here and fill out the form that pops up. Be sure to send a photo of your special drive er as well.
Unsure what to say?
Here's some of the luv we shared previously:
From Christine Frazier: "He is the most amazing man I have ever met. He works hard for his family. We have had a bumpy road yet we are strong together. He has a unique heart and hates to be away from us. Yet he does it provide for us. I love him with every beat of my heart. I am so proud of him every day."
Nicole Kuncl wrote: "He is so passionate about trucking and always wants to be the best at what he does so he works hard to do so. It's not just a job you go to 9-5 it's more of a lifestyle you learn to live, he sacrifices so much to give us the best even though he is gone through the most of it. Not a day that goes by that I don't appreciate what he does!"
And Candy Dominguez said: "My trucker is what a professional truck driver is all about from being a safe and courteous driver to taking care of his customers. He is closing in on his million-mile mark and I am proud of him as he strives to reach for his goal. I'm excited to get to share that milestone with him. Ricky has brought so much love, joy, and laughter to my life. He's everything I didn't know I was missing and I can't see my life without him now. So that statement IF YOU GOT IT, A TRUCK PROBABLY BROUGHT IT is very true in this respect because a truck brought the love of my "new" life to me. I love my trucker!"
See, it's not that hard.
And, for taking the time to tell us about your special trucker, that special driver could win lunch on us. Four folks who share the most heartfelt entries will receive a $25 gift card for Subway.
So, show you not only appreciate the trucker in your life but can actually say, "I Luv my trucker!" by clicking here.