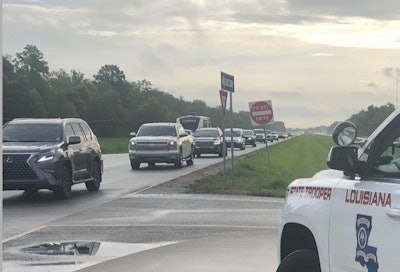 Louisiana State Police
Expect traffic congestion and possible delays -- especially on Interstate 10 -- as evacuations are under way in and around New Orleans as the city prepares for the arrival of Hurricane Ida as a Category 4 storm.
Ida is forecast to arrive in coastal Louisana 16 years to the day since the infamous Hurricane Katrina ravaged the city as a Category 3 storm.
AccuWeather forecasters expect Ida to make landfall Sunday as a Category 4 hurricane with sustained winds of 130 to 156 mph. However, Accuweather cautions that there remains a possibility that during rapid intensification, Ida could become a Category 5 hurricane prior to landfall.
Residents and travelers on the Louisiana coast, as well as coastal areas of Mississippi, Alabama and the western portion of the Florida Panhandle, should be prepared for dangerous impacts from Ida. Accuweather says some roads may become blocked by rising water, fallen trees and other debris as Ida moves inland. Widespread power outages are expected along the central Gulf Coast and Mississippi Delta regions.
Accuweather reports that as of 8 a.m. EDT today "Ida was located in the southeastern Gulf of Mexico and was moving northwest at a speed of 16 mph and had maximum sustained winds of 80 mph. Ida was a Category 1 hurricane (maximum sustained winds of 74 to 95 mph). Hurricane-force winds extended outward up to 25 miles from the storm's center and tropical-storm-force winds extended outward up to 115 miles."
The National Weather Service's Eastern Region headquarters this morning said, "Ida is likely to produce heavy rainfall Sunday and Monday across the central Gulf Coast from southeast Louisiana to coastal Mississippi, resulting in life-threatening flash and urban flooding and significant river flooding impacts. As Ida moves inland, significant flooding impacts are likely across portions of the Lower Mississippi and Tennessee Valleys Monday and Tuesday."
A variety of warnings are in place along parts of the central Gulf Coast. Hurricane warnings are in effect from the central Louisiana coast to the border of Louisiana and Mississippi. Tropical storm warnings and hurricane watches are in effect for portions of the western Louisiana coast, as well as the southern coast of Mississippi.
The Louisiana State Police this morning posted to its Facebook page: "Travelers are reminded to have any necessary medications, non-perishable food items, all critical documents, and chargers for communication purposes. Motorists are urged to call *LSP (*577) only in the event of roadside emergencies and not for informational purposes. For information about shelters, call 211. For road closure information, motorists can utilize the 511 phone system, 511la.org, or Louisiana 511 smartphone application.
For updates related to Hurricane Ida, citizens can text "Ida" to 67283.