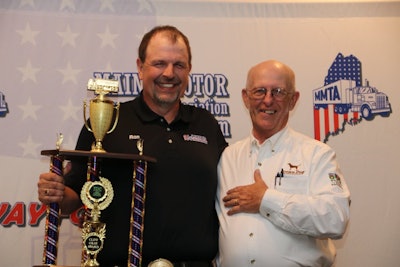 Maine Professional Drivers Association
Ron Round, a Maine-based driver for Pottle's Transportation, was crowned the winner of the American Trucking Associations 2021 National Battle of the States: Virtual Truck Driving Championships. The contest was sponsored by Bendix.
Round has driven 2.7 million accident-free driving miles in his 33-year career. For the last 22 years, he has driven for Pottle's Transportation, where he also serves as a driver trainer.
Vice president of the Maine Professional Drivers Association, and the association's Driver of the Year in 2019, Round has also earned multiple awards in the Maine Professional Truck Driving Championships, including seven-time state champion, twice grand champion, and top rookie in 2001.
Additionally, Round was named the 2018 Maine Motor Transport Association's Driver of the Year, and in 2019 served as a driver in the Wreaths Across America convoy.
Due to the pandemic, this year's event took place entirely online, beginning July 31 with state-level trivia contests based on Facts for Drivers, federal and state laws, and state trucking history and culture. These contests sent state winners to the national competition on Aug. 14. To qualify for both the state and national competitions, drivers needed to remain accident-free – regardless of fault – and be continuously employed by the same motor carrier since Aug. 23, 2020.
In 2019 and earlier years, the NTDC featured professional truck drivers from across the United States competing in both written and behind-the-wheel challenges. Ohio-based professional driver Scott Woodrome won his second consecutive Grand Champion trophy that year.
The 2022 National Truck Driving Championships are expected to be in person in Indianapolis.