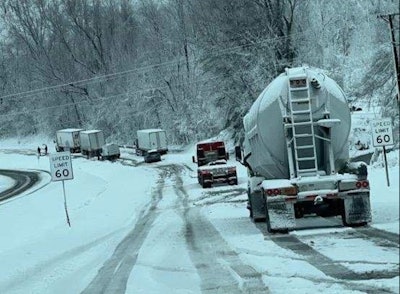 Virginia State Police
The new year of driving has gotten off to a difficult start for truckers in several parts of the country as significant winter storms have arrived.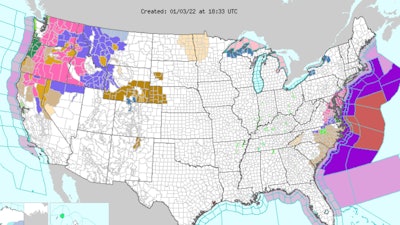 A winter storm has complicated travel along the East Coast from Maryland, Virginia, and Washington, D.C. up into New Jersey. At the same time, many roads are closed to all traffic in Oregon because of blizzard-like conditions, and snow blanketed parts of the Southeast. And, temperatures are expected to drop in the southern Plains where freeze warnings are posted.
Some places in the South have gotten significant snowfall. Swiss, North Carolina received 11 inches, while Glendie, Virginia reported 10.6 inches; St. Charles, Maryland received 10.5 inches, and Gatlinburg, Tennessee was covered by 9 inches of snow. The greater Huntsville area in Alabama received at least 7 inches.
Washington, D.C. got the most snow not just of the season but also in recent years. The district has advised against unnecessary travel as plows have struggled to keep up with the more than 8 inches of snow that has fallen.
More than 800,000 customers were without electrical service in Georgia, Tennessee, and Maryland.
Further up the coast in New Jersey rain turned to snow and snarled traffic and prompted the state's DOT to warn against any unnecessary travel. Forecasters are warning parts of the state could get from 12 to 18 inches of snow before the storm passes. A state of emergency was declared in five southern counties ahead of the storm.
On the opposite coast, the Pacific Northwest is dealing with the latest round of winter weather. A series of low-pressure systems are delivering rain and snow to Washington, Oregon, and northern California during the next several days.
Part of Interstate 84 was closed this morning, as were numerous state highways. The Oregon Department of Transportation today said: "Conditions are so extreme that snowplow drivers are unable to see the road well enough to effectively plow snow. In this photo, you can see one of our own plows that became stuck in a drift on OR 11. Plowing operations may be postponed on some closed state routes in Umatilla County and these closures could remain in place for several days on lower priority routes because we're expecting another, new, snowstorm today, along with more high wind conditions."