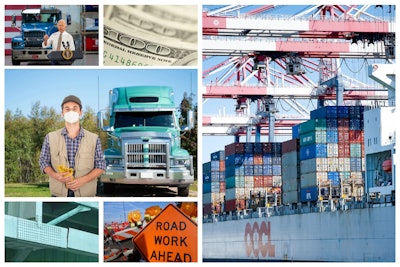 For better or worse, the American trucking industry captured the imaginations of the general interest and online social media as never before in 2021.
As COVID-19 consumed 2020, "Thank You, Truckers!" signs sprouted along many highways, and it seemed a day didn't pass without some family or organization simply showing up at a truck stop or rest area with free food, masks, and hand sanitizer.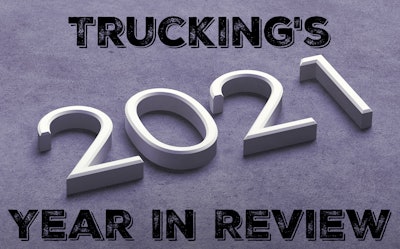 In 2021, not so much.
Truckers continued to be hailed as essential and critical not just to the flow of freight but also to the nation's overall economy. But, it was more a case of institutional recognition than a personal one even as first the Delta then Omicron variants of COVID-19 swept over the land.
And, it was the perceived absence of professional drivers in the greater supply chain that filled headlines and news feeds for much of 2021. Daily, one outlet or another appeared to discover there were not enough drivers for all of the freight that was arriving at two West Coast ports, and that Christmas and most of the rest of American life as we know it, was therefore endangered.
But, all have somehow struggled on, and the $791.7 billion American trucking industry – if not all of its drivers – thrived despite numerous issues in 2021.
Now, as the COVID-19 pandemic spikes again, the stage is set for issues that began in 2021 to continue or, as many industry observers hope, get resolved.
Trucking vs. COVID-19: Year two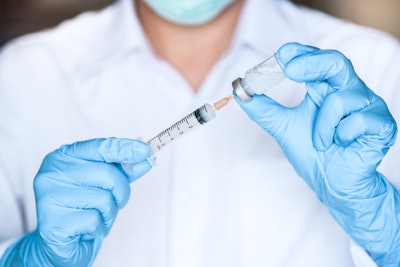 Gone were the days of drivers scrambling to find face masks and hand sanitizers. Gone too were the days truckers enjoyed having to contend with fewer four-wheelers on the interstates.
The year about to lapse saw businesses and institutions inch back toward normal operations. Holiday travel returned to near pre-pandemic levels and while truckers remained essential, they still struggled with access to facilities and the kind of meals at sit-down restaurants they used to enjoy.
As the year fades to black, the issue of mandatory vaccinations and/or testing for those working at companies with 100 or more employees is headed to the U.S. Supreme Court. The high court recently announced it will hear oral arguments Jan. 7.
Also due next month are requirements by both the U.S. and Canadian governments that truckers crossing their borders be vaccinated.
But, the effects of COVID-19 went well beyond the courtroom in 2021. They were felt across most aspects of commerce including and especially within trucking. The disease – or even just the threat of it – thinned driver ranks and forced many companies to raise driver pay even several times in the cases of some companies.
It was also blamed for slowing the production of Class 8 trucks and making it harder for many manufacturers to get parts, especially computer chips.
Still, freight demand was high and so were rates. That trend is expected by most forecasters to continue into at least the first half of 2022.
Supply chain problems become mainstream worries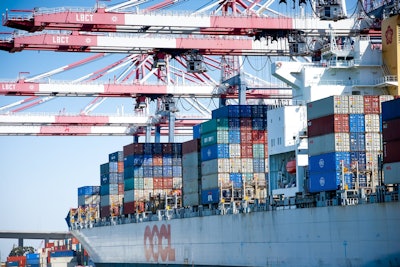 It's a safe bet that until about six or eight months ago, most Americans never had a dinner table conversation about this country's supply chain. It's an even safer bet that many didn't know there was such a creature, or even care it existed.
But, now it's a national preoccupation. Despite significant evidence to the contrary, much hand-wringing over empty shelves and ruined Christmases persisted as the holiday drew near. Everyone from the mom shopping for a child's toy to members of Congress to economists and pundits fretted over what exactly was wrong and why it can't be solved more quickly. Many too simply saw it as a convenient albatross to hang around the neck of the Biden Administration.
At its worst, there was a daily body count of the number of container ships anchored off the ports of Long Beach and Los Angeles and waiting further out to see. At one point earlier this month some 90 ships were waiting to unload.
However, the lines of trucks waiting to pick up containers and leave the port were even long for months at a time. The situation drew the attention of the White House and President Biden insisted on 24/7 operations, but problems persisted.
As 2021 draws to a close, ships and truckers continue to wait and hope for solutions.
Finally, an infrastructure bill passes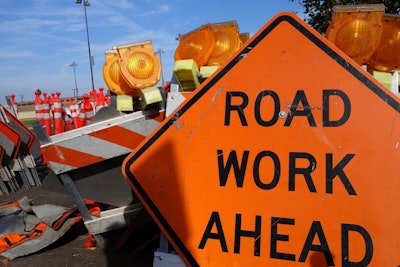 Supply chain concerns were top of mind in Washington as Congress and the White House negotiated and sparred over the creation and passage of legislation to improve the nation's highways, bridges, and other parts of its infrastructure. Finally!
Politics were eventually overcome and on Nov. 6 the $1.2 trillion Infrastructure Investment and Jobs Act was approved and $115 billion was allocated for highways and bridges. The bill passed 228-206 with 215 Democrats and 13 Republicans voting in favor of the landmark legislation. was a victory the likes of which eluded the Trump presidency.
What was notable by its absence was any money for building or expanding safe and secure truck parking.
President Biden becomes recruiter/retainer in chief
Not long after Congress approved the $1.2 trillion infrastructure bill and he signed it into law, President Biden announced a major initiative by the federal government aimed at improving the recruitment and retention of truck drivers.
The Biden-Harris Trucking Action Plan calls for a 90-day effort that aims to:
Holding listening sessions with drivers, carriers, and unions to improve driving jobs as well as examine driver pay and the issue of delays and detention

Attract more military veterans to trucking industry jobs

Encourage more women to take up the profession

Support an existing pilot program to train and license 18-20-year-old drivers to deliver across state lines

Grow the number of apprenticeships for drivers and make them easier to create

Providing funds and other assistance to states to address challenges in their CDL processes
Meera Joshi is In and out of FMCSA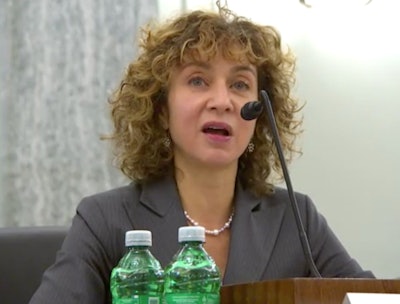 The stars all seemed to align.
The Biden Administration vowed to be inclusive and diverse and made good on that promise by naming Meera Joshi, a woman of Indian heritage to run the Federal Motor Carrier Safety Administration.
She was an Ivy League lawyer who previously worked in New York City government, but overcame that and sailed through her preliminary nomination questioning before a Senate committee. Her profile was appropriately low as she waited for confirmation by the full Senate, which never came.
Then, earlier this month, she made the biggest headlines of her short time at the agency when it was announced she was leaving Washington, D.C. to return to New York City. Mayor-elect Eric Adams appointed her his deputy for operations.
Joshi exits FMCSA at the end of January leaving the FMCSA without a full-fledged administrator again.
Many Carriers heeded concerns of drivers and raised pay
If there was one recurring story that affected the lives of individual truckers more than any other during 2021, it was what seemed to be the upward spiral of driver pay. For most of the year, a week did not pass that a carrier did not announce a driver pay hike. Some carriers used increased rates and demand to raise pay or improve benefits several times in twelve-month spans.
And, for many drivers gaining fatter paychecks, it was something that was top of mind this past year.
When the American Transportation Research Institute released the findings of its annual survey of the year's critical issues, driver pay ranked third when the answers from all respondents were combined. But, driver compensation and truck parking tied for the top spot when responses by only drivers were examined. And, driver pay fell to fifth place when only carriers' responses were considered.
In addition, some fleets improved benefits for drivers, others bumped up accessorial pay, and many touted sign-on bonuses, some as high as $15,000. Still others created whole new compensation programs to allow drivers to have a great say in how, when, and where they drive and what they earn.
Still, the issue of losing pay to long waits at shippers and receivers remained unsolved as the year closed. But, it's expected to be part of discussions as part of the Biden-Harris Trucking Action Plan, which calls for a 90-day effort to "lay the foundation for a next generation trucking workforce that will strengthen U.S. competitiveness and support millions of good driving jobs for years to come."
Also to be discussed as part of that plan are efforts to attract more women and military veterans to driver positions, support the pilot program to train and license 18-20-year-old drivers to deliver across state lines, and hold listening sessions with drivers and others in an attempt to improve the profession.
Interstate 40 bridge closing, detour gave truckers a major headache
If the push for serious funding for this country's infrastructure needed a poster child, it got one in early May when an important link in the country's freight chain failed.
An inspection of the Hernando de Soto bridge that carries Interstate 40 over the Mississippi River between eastern Arkansas and Memphis, Tennessee was found to have a defect so severe that the inspector who discovered it called 911 to have traffic rerouted. And, traffic stayed detoured for about three months as the cracked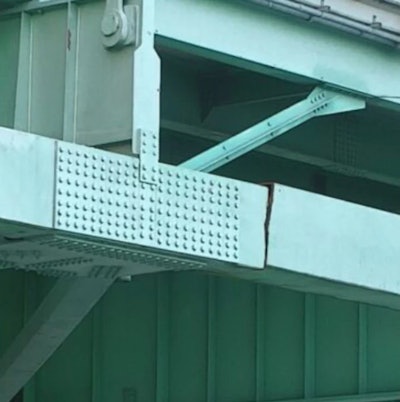 support beam was repaired.
The rerouting of traffic – including as many as 9,000 trucks daily – is said to have cost trucking interests at least $1 million a day, according to industry estimates..
It wasn't until early August that the cracked steel truss was repaired and the bridge reopened. In the end, the repairs cost more than $8 million, and jump-started a long-standing conversation about the need for another bridge for that part of the country.
Central Freight Lines closes; 1,300 drivers left looking for work
Just as the year wound down and Christmas loomed, trucking interests received a surprise bit of news when it learned Texas-based LTL carrier Central Freight Lines was calling it quits after more than 96 years.
The cause? More debts than cash.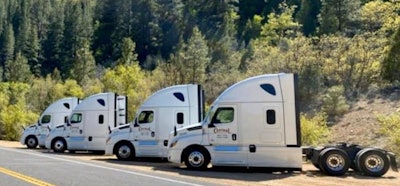 In late December the company announced it would complete delivery of loads that were en route, and close up shop before Christmas arrived. Many of its drivers and other employees said they learned about it not directly from the company, but from online sources or colleagues.
Company President Bruce Kalem told The Wall Street Journal that Central Freight had $262 million in revenue during its latest fiscal year, but added, "The company has been hemorrhaging cash and had operating losses for many years."
Drivers also complained about poor maintenance practices and communications.
As the year closes, other carriers have actively recruited Central Freight Lines drivers and were expected to line up to purchase some of its trucks and trailers.
Also in 2021, Illinois-based Dillon Transport closed. The family-owned tanker company had almost 350 drivers.
While Central Freight and Dillon Transport closed, the face of trucking changed for many companies through corporate sales and mergers. A bit more than a year ago Montreal-based TFI International acquired UPS Freight for about $800 million. TFI also acquired D&D Sexton, a Missouri-based reefer company.
Also:
In June Knight-Swift Transportation Holdings Inc. acquired Kansas City, Missouri-based UTXL, Inc., a third-party logistics company, specializing in over-the-road full truckload and multi-stop loads. Knight-Swift also spent $150 million to acquire RAC MME Holdings, which operates 103-year-old Midwest Motor Express and Midnite Express. It also acquired 100% of Dothan, Alabama-based AAA Cooper Transportation

Heniff Transportation Systems acquired Premier Bulk Systems Ltd of Gormley, Ontario, Canada.

New York-based Leonard's Express acquired the assets of Holman Transportation Services, based in Caldwell, Idaho.

Werner Enterprises, Inc., took an 80% equity ownership stake in ECM Transport Group, a regional truckload carrier based in Cheswick, Pennsylvania.

Greenville, Tennessee-based Forward Air acquired BarOle Trucking, Inc. and the trucking-related assets of TKI Intermodal, LLC. Forward Air also acquired most of the assets of Linn Star Holdings, Inc., Linn Star Transfer, Inc., and Linn Star Logistics LLC.

PS Holdco, the parent company of Birmingham, Alabama-based flatbedder PS Logistics, purchased all substantial transportation assets of Patriot Transit and Patriot Logistics.

Florida-based railroad CSX purchased Quality Carriers.
Verdict in I-70 crash blows up online; will get second look
Colorado Gov. Jared Polis has reduced the prison sentence of a truck driver convicted in a deadly crash to 10 years, cutting his original 110-year term.
The judge who sentenced the Texas trucker to 110 years in prison for his role in a massive 2019 accident in Colorado that left four people dead plans to revisit the sentence he handed 26-year-old Rogel Aguilera-Mederos. District Court Judge Bruce Jones had set Jan. 13 for a hearing on the sentence.
In making the announcement, Jones said he hoped the hearing would not turn into a circus.
Not an actual circus, but the case turned into an internet sensation after the century-long verdict was announced. Upwards of 5 million people signed an online petition asking for the sentence to be reduced. The prosecutor in the case has said she will seek a sentence of 20 to 30 years.
A jury found Aguilera-Mederos guilty of 27 counts in October including:
four counts of vehicular homicide

two counts of vehicular assault
six counts of assault in the first degree – extreme indifference
10 counts of criminal attempt to commit assault in the first degree
one count of Reckless driving
four counts of careless driving causing death
He was found not guilty of 15 counts of criminal attempts to commit assault in the first degree.
Driverless truck makes 80-mile trip on Arizona highways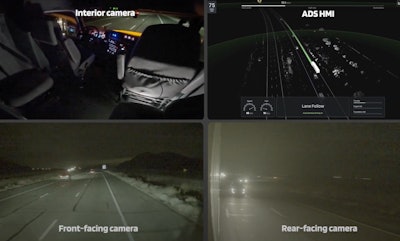 Chinese tech company TuSimple announced earlier this week that on Dec. 22 one of its Class 8 trucks made an actual delivery with no one in the cab and no human intervening from afar. The truck drove from a large railyard in Tucson and traveled more than 80 miles on surface streets and highways at night to a high-volume distribution center in the Phoenix metro area. TuSimple said the one-hour and 20-minute drive is the first time a class 8 autonomous truck has operated on open public roads without a human in the vehicle. The company said the test was performed in close collaboration with the Arizona Department of Transportation and law enforcement.
Also worthy of note ...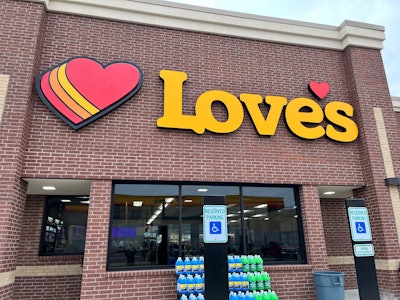 Love's continued the kind of expansion it has enjoyed the last several years. In 2021 the Oklahoma City-based company opened 38 new locations and added almost 3,000 truck parking spaces across the country in 2021. The company also added 22 new Speedco and Love's Truck Care locations.
Ice Road the movie starred action hero Liam Neeson as one of three truckers making a mad dash up the ice roads to save miners trapped in a Canadian diamond mine. The life-saving run was complicated by bad guys trying to make the rescue fail. Ice Road appeared on Netflix and can't be said to have struck a positive note with real truck drivers.
Betty Aragon, a 74-year-old company driver for Wilson, was named Company Driver of the Year by the Truckload Carriers Association and Truckers News. Aragon had retired at 65 but returned to trucking in short order.
The first inductees into the newly-created American Trucking and Industry Leader Hall of Fame included Clessie Lyle Cummins, founder of the Cummins Engine Co.; Jack and Gus Mack, founders of Mack Trucks, Inc.; The Owner-Operator Independent Drivers Association; and Dave Nemo, longtime SiriusXM RoadDog radio host.
RELATED NEWS:
For some truckers, 2021 was a glass half empty, for others it was half full
How 2021 sounded: A year's worth of the Truckers News Podcast
Numerous truckers honored during 2021
2021 was a good year for trucker gear, devices