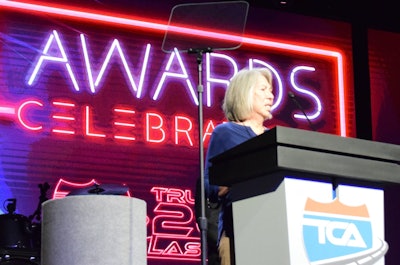 Todd Dills
EDITOR'S NOTE: This is the first in a series of stories looking at what went on in the trucking industry in 2021. More stories will follow and we'll wrap up the series with a look at what to expect for the industry in 2022.
___
Despite 2021 being a strange and difficult year for professional truck drivers, it also was a good one in which their essential nature was recognized and for many their pay, perks and benefits improved.
Also during the year that's about to expire, many truckers were recognized for their work ethic and dedication to their jobs. Others were honored for their work in the communities they call home, and many received awards for being highway heroes.
This year's honored drivers included: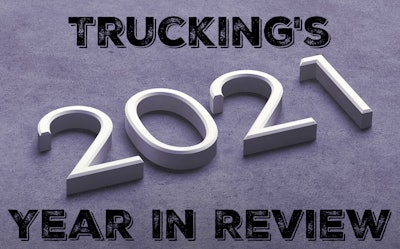 Wilson's Betty Aragon named TCA/Truckers News Company Driver of the Year
Fifth time's a charm for owner-operator Bryan Smith, who bags the big prize from TCA/Overdrive
Trucker honored for assisting at scene of accident in New Jersey
First inductees into new trucking hall of fame announced; ceremony Oct. 15
Two truckers named Citizen Drivers by Travel Centers of America
Hirschbach driver honored for helping injured mechanic
On the road 34 years, Werner driver win's CVSA's IDEA Award
Ruan honors veteran driver with more than 5 million miles
ABF Freight driver honored for helping trucker in Texas
Landstar driver honored for helping stranded motorist & her kids
Pottle's Transportation driver wins national championship
Finalists named for Tank Truck Driver of the Year award
Pilot honors trucker who followed in his father's driving footsteps
Maverick driver named Pilot Flying J's 2021 Road Warrior
Trucker for supermarket chain named NY's driver of the year
Two drivers killed helping at accident scene recognized
Stevens Transport driver wins award for veteran who is also a rookie trucker
FedEx Freight driver among four winners of trucking image award
Florida trucker honored for helping free pair from wrecked SUV
Walmart company driver wins Premier Achievement Award
Trucker honored for helping woman, child during wait on I-80
Texas trucker honored for helping woman at accident scene
Texas trucker wins new Kenworth T680 in Landstar giveaway
Howes Hall of Fame honors Truckers Against Trafficking
Company driver from Ohio wins 8th annual Trucker Talent Search
Georgia trucker honored for helping father, son in I-78 collision
4 drivers inducted into private fleet hall of fame
Angel wings for trucker who helped man in his 80s
Penske honors long-serving drivers for their safety records
Trucker honored for aiding woman who'd been dumped on I-90
116 drivers with a million miles or more honored by J.B. Hunt
Trucker honored for helping woman at accident scene
36 drivers in running to be next America's Road Team Captains
Prime driver honored for helping at accident scene
Nationwide Rail Services driver extinguishes fire, aids accident victim
Montana association honors top driver, carrier
Trucker helps out at accident scene; credits mother with his training
Canadian trucker honored for aiding driver from the same company
Tennessee taps veteran trucker as its driver of the year
Bison driver recognized for helping at accident scene ... again
20 small fleet truckers to be honored at NASTC Nashville gathering
G&D/Hoffman's Ronald Baird named Tank Truck Driver of the Year
Clark Transfer driver recognized for actions at multi-car crash scene
Twice as many angels: Twin brothers honored for helping injured couple
Trucker of 40 years named 2020 Missouri Driver of the Year
Freymiller driver uses firefighter skills to aid accident victims
Trucker honored for aiding couple in winter accident
Tanker company names driver of the year
Hirschbach drivers help family in pickup fire
Trucker rescues 9-year-old boy in double-fatal crash
CFI trucker rescues family whose car caught fire
Tanker driver honored for actions during Florida collision
Trucker's paramedic training helpful at crash/fire scene