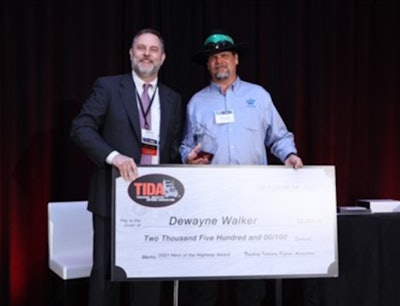 Landstar driver DeWayne Walker has been named a "Hero of the Highway" by the Trucking Industry Defense Association for his actions on a cold night in February.
He was. honored for his actions when he encounter a stranded motorist and her two young children who were facing freezing temperatures.
Walker was settling into his parking spot at a truck stop for the night in North Dakota. He said, "As I backed into my parking space, I noticed that there was a woman in the parking lot with the hood up on her car,. When I looked under the hood, it was clear to me what the problem was. She was driving a diesel, and her fuel had jelled up because of the cold."
The motorist had two daughters under the age of 3 with her, and it was 37 degrees below zero with heavy snowfall. The truck stop had closed, so Walker knew she couldn't get her car fixed that evening. He feared the family might not survive in the cold overnight. So, he offered to shelter them in his rig, shared his dinner, found "Scooby-Doo" on the TV in his cab, and let the mother and her little girls sleep in his bunk while he slept in the front seat.
The next morning, Walker made them breakfast and got their car running. The mother says when she offered to pay him, he refused, saying, "No ma'am, that's not how this industry works."
Walker's actions the night of February 10, 2021 earned him the Landstar Platinum Star of Quality earlier this year, and now the honor of TIDA Hero of the Highway.
Each year commercial drivers are nominated for TIDA's award based on heroic behavior or an extraordinary act of public service. The TIDA Board of Directors selects one recipient. Walker received $2,500 and an all-expense paid trip to TIDA's annual seminar where he was honored in a special ceremony.