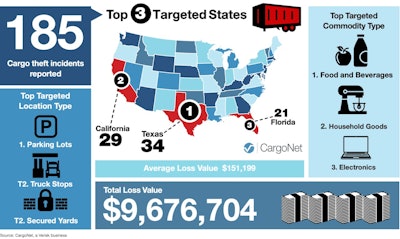 As is usual during extended holiday periods, a warning has gone up for truckers to be especially aware of cargo theft between now and the New Year's weekend.
Cargo theft recording firm CargoNet is warning trucking companies and drivers that cargo theft has historically been higher during the 10-day holiday period from Dec. 23-Jan. 2.
According to CargoNet, during that 10-day period over the last five years, there were a total of 185 theft events recorded for an average of 37 events per holiday period. The average stolen shipment was valued at $151,199. Theft was highest during the 2016 holiday period, when CargoNet recorded 51 theft events.
Over the last five years, activity has been lowest on Christmas Day, but the two days prior accounted for 24% of volume. CargoNet noted that when the exact day of theft is not known, its statistics assume the event occurred on the first possible day in the range.
The analysis also showed a spike in theft on Dec. 23, Dec. 31, and Jan. 1 – which had the most activity of any other day in the analysis.
Theft activity was most frequent in Dallas County, Texas; Shelby County, Tennessee; Miami-Dade County, Florida; Cook County, Illinois; and San Bernardino County, California.
Cargo thieves most commonly targeted shipments of computer electronics, televisions, major appliances, and all kinds of alcoholic and non-alcoholic beverages, CargoNet found.
College collaborates to offer CDL instruction
A community college in New York state's North Country collaborated with a local workforce development agency and a truck driving school to offer a class to prepare students to take the commercial driver's license Class A exam.
The class was offered in an effort to help fill the need for truck drivers in the region, and involved Jefferson Community College, the North Country Workforce Development Institute, Lewis County, and the National Tractor Trailer School.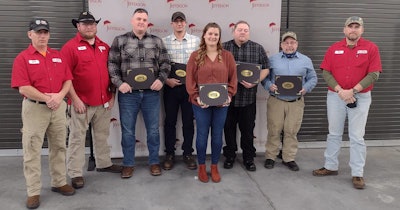 The 5-week training program consisted of 118 hours of classroom instruction and 107 hours of behind-the-wheel hands-on learning.
Program Development Director, National Tractor Trailer School Kimberly Sather said it was inspiring to watch the students achieve their goals.
"These students had dreams of becoming truck drivers for several years, and by the generosity of these financial grants from our local workforce agencies allowed these dreams to come to fruition," Sather said. "These students worked so hard to complete the training program and now have a marketable skill in a high-demand occupation. The CDL A will now allow them to contribute to the local economy in many ways."
JCC Workforce Development is exploring running additional CDL Class A training programs.
More information about the class can be found on the Jefferson Community College website.
Ohio seeks to change weigh stations into truck parking
The Ohio Department of Transportation will be undertaking a project to repurpose two unused weigh stations along I-71 and I-76 in Ashland and Medina counties in 2024.
Work will consist of reconstructing the currently unused weigh stations on I-71 south between SR 301 and U.S. 250 in Ashland County and I-76 east between SR 3 and SR 57 in Medina County for truck parking.
All work will be performed within existing right-of-way, and traffic will be maintained during construction. Construction is estimated to begin in April 2024.
Moving & storage industry worth $32 billion, has 186,000 jobs
A new report from the American Trucking Associations' Moving and Storage Conference shows the sector supports more than 186,000 jobs in the U.S. and has $32.2 billion in direct economic activity.
The report breaks down the economic impact of the moving industry across the country and in specific states.
Among the findings:
In 2021, the moving and storage industry directly supported 186,382 jobs, in addition to indirectly supporting 121,968 jobs
The moving industry directly generated $32.2 billion
The industry paid $12.8 billion in wages in 2021
Moving and storage businesses paid $10.6 billion in state and federal business taxes in 2021
"We have known for some time how important this industry is to the country, but this report shows how much we contribute – not just to individual families, service members, and companies who rely on our services – but to our communities and to the economy as a whole," said Moving & Storage Institute Chairman Jack Griffin, chairman, and CEO of Atlas World Group Inc.
See a one-page summary of the report.
ICYMI
Joshi's exit from FMCSA nothing new for the agency
Finalists named for Tank Truck Driver of the Year award
Stevens Transport driver wins award for veteran who is also a rookie trucker
Take A Look At This