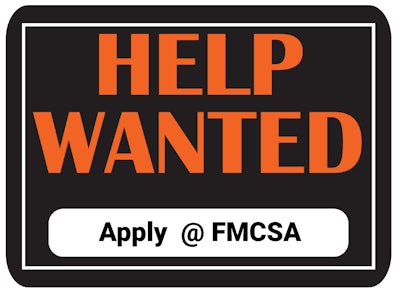 Like the industry it regulates, the Federal Motor Carrier Safety Administration has a problem retaining employees.
Monday it was announced the FMCSA's Acting Administrator Meera Joshi was leaving the agency less than a year after being appointed by President Joe Biden. It was also announced that she'd assume a significant post in the administration of Eric Adams, a Democrat who was elected mayor of New York City last month.
Joshi's exit makes her the fourth person to have served – and left – the agency in a span of 26 months. It has not had a permanent leader since Trump appointee Ray Martinez left in October of 2019. He had been sworn in on Feb. 28 of 2018 as the sixth administrator since FMCSA was formed in January of 2000.
Since Martinez's departure, the FMCSA has been without a full-fledged administrator confirmed by the Senate. Before Joshi's arrival, the agency was shepherded by Jim Mullen and Wiley Deck.
Had she been confirmed by the full Senate, Joshi would have been the sixth actual administrator of the FMCSA since former trucking exec Joe Clapp ran the agency when it was formed in 2000. Since then FMCSA has been overseen by Annette Sandberg, John Hill, Anne Ferro, T.F. Scott Darling, and Martinez. There have also been no fewer than six acting administrators. No doubt a seventh will be named early next year.
And, we hear you asking yourself, "So what?"
Joshi's departure comes at what some might consider an inopportune time. President Biden last week announced a large federal plan meant to help trucking companies recruit and retain drivers. Her return to New York City government also comes on the heels of the Biden Administration's sweeping infrastructure program passed earlier this year, and as the entire supply chain is under considerable scrutiny for delays at West Coast ports.
No doubt Joshi would have had a considerable role to play in the Biden-Harris Trucking Action Plan, the 90-day concentrated effort to address some of the difficult issues facing the industry. Biden's plan and other initiatives involve outreach by FMCSA to the industry and the creation of programs to attract more veterans, young people, and women to the industry. All would have, presumably, involved Joshi heavily. In fact, Joshi had hosted one of several listening sessions shortly before announcing she was leaving.
FMCSA's agenda for the new year would also have held plenty more work for Joshi. Whoever replaces her – even temporarily – will inherit a "to do" list that includes the new Entry-Level Driver Training process that begins in February, dealing with issues involving the agency's Drug and Alcohol Clearinghouse, overseeing the Drive Safe Act to attract 18-20-year-olds to the industry, and helping the industry cope with issues created by the latest surge of COVID-19 cases.
RELATED NEWS: Committee approves FMCSA's Joshi nomination; next stop is full Senate
Of course, FMCSA has plenty of hands to do the day-to-day work of those and other chronic issues – truck parking, hours of service, ELD use, highway safety – regardless of who occupies the administrator's chair. There are, after all, some 1,000 mostly career staffers in the agency who keep it operating no matter who's in charge.
So, will Meera Joshi becoming the latest former FMCSA acting administrator next month make a big difference in the day-to-day lives of the men and women driving trucks across America's highways? Not really. To most, she's just another non-trucker seeming to make rules by which truckers must abide.
However, what truly will be missing, if even until a placeholder is appointed, is the public face and voice of FMCSA. And, that's important even if she doesn't come from a trucking background.
RELATED NEWS: FMCSA nominee Joshi fields questions on congestion, driver pay, hours of service & especially safety
"It cannot be overstated how vital truck drivers are to every American family," said Joshi at that meeting in South Carolina. "As a nation, we count on truckers time and time again during crises. But truck drivers deserve not only our appreciation, but also our respect and support, including fair compensation, and safe and sufficient rest areas."
It'll now be up to Joshi's replacement and others at FMCSA to make good on that sentiment.