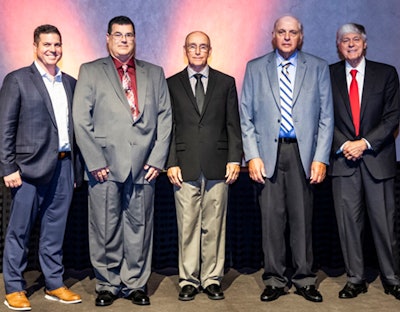 Four drivers, who collectively had driven for more than 167 years while racking up more than 19.8 million miles of service without a chargeable accident, have been inducted into the National Private Truck Council Driver Hall of Fame sponsored by Omnitracs. The recognition took place June 14 in conjunction with the NPTC Annual Education Management Conference and Exhibition, which was held in Cincinnati.
The drivers are from NPTC member companies and have met the minimum qualifications of 20 years, 3 million miles or 50,000 hours of driving without a preventable accident. Many of the drivers have far exceeded these qualifications and are known for having made significant contributions to their industry and their communities. Since its inception, 112 drivers have been installed in the Driver Hall of Fame.
This year's Driver Hall of Fame inductees are:
Michael Gray Baity, Unifi Manufacturing Inc.

Mike Hetric, KeHE Distribution
Augustine Tamayo, Shaw Transport Inc.
Luther "Junior" Weaver, Mohawk Carpet Transportation of Georgia, LLC
Founded in 1939, the National Private Truck Council is the only national trade association exclusively representing the interests of the private truck industry and corporate/business private truck fleet management.