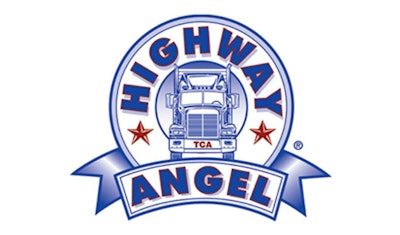 One professional trucker is being honored for his effort to help another who was involved in. a serious accident.
The Truckload Carriers Association has named Canadian trucker honored for aiding driver from the same company, from Laval, Quebec, Canada a Highway Angel for aiding a truck driver from the same company following a collision.
TCA explains:
Daniel Cristian CiorbaIt was a bright, sunny day as Ciorba was southbound on Interstate 57 near Dix, Illinois. As he approached a bend in the road he checked his mirrors and noticed another C.A.T. Inc. truck traveling about a quarter mile behind him. As Ciorba came around the bend, he saw there was a construction zone up ahead and one lane was closed. Traffic was quickly backing up and Ciorba had to cautiously slow down as a pickup truck was following closely behind him. A moment later, as he checked his right mirror again, he was shocked to see the other C.A.T. truck rear-end another tractor trailer. "I'm almost certain he must have been blinded by the sun," Ciorba shared with TCA.

As soon as he could stop, Ciorba turned on his foiur-way flashers, grabbed his fire extinguisher, and ran back to the accident scene. As he reached the other C.A.T. truck, he saw that the cab had sustained heavy damage. Another motorist told Ciorba he could smell gas. Ciorba's training as a truck mechanic kicked in and he worked quickly to cut the battery cables to prevent a spark and disconnected the fuel lines.

He then checked on the driver. "The window was broken and the door was crushed," he shared. The driver's face was covered in blood and he was having difficulty breathing. He was pinned by the steering wheel. "I told him everything would be fine and to keep calm and breathe. I tried to open the door with a hand bar, but the door was completely compressed," recalled Ciorba. He kept talking to him to keep him awake, but the driver lost consciousness three or four times.

First responders arrived within 20 minutes, but it took more than an hour to extricate the driver from his truck. In the meantime, Ciorba stayed on scene and called the C.A.T. dispatcher to relay what was happening so the company could inform the family of the driver's injuries and what hospital he was airlifted to. He then waited to be sure the truck and load was secure until it could be towed.

The driver's mother later contacted Ciorba to thank him for helping her son. He is now back at work and the two men have met. Ciorba says his family raised him to help others in need. He is from Romania and moved to Quebec nine years ago. He was a truck mechanic before joining C.A.T. Inc. three years ago as a driver. He says his training helped him to know to disconnect the power and the fuel which likely prevented the situation from becoming far worse.
For his willingness to assist, TCA has presented him with a certificate, patch, lapel pin, and truck decals. His employer has also received a certificate acknowledging their driver as a Highway Angel.
Since the program's inception in August 1997, nearly 1,300 professional truck drivers have been recognized as Highway Angels for the exemplary kindness, courtesy, and courage they have displayed while on the job.
Special thanks to the program's Presenting Sponsor, EpicVue, and Supporting Sponsor, DriverFacts.