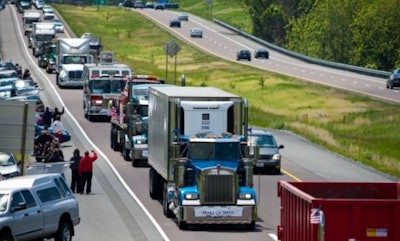 The event was different, but the result was the same.
That's the story of the 32nd annual Mother's Day Convoy to benefit Make-A-Wish of Philadelphia, Delaware and Susquehanna Valley, which was held in Manheim, Pennsylvania, on Sunday, May 9.
Scaled down from previous years because of COVID-19 restrictions, the convoy of 100 trucks helped the charity raise funds towards its goal of $300,000. The convoy staged up at the Manheim Auto Auction, which also raised more than $160,000. Make-A-Wish grants wishes to gravely ill children. The annual convoy is the charity's major fundraiser, and funds raised by drivers help pay for half of the wishes granted by the group.
Kathy Schladitz is the regional events manager for Make-A-Wish, and she heaped praise on the truckers who raised most of the money for the convoy. She said truckers "really stepped up their fundraising efforts this year." Schladitz also said this year's event gave organizers to focus on the truckers.
The first 30 trucks in the convoy lineup were the top fundraisers from last year. Drivers who raised at least $1,000 were next in line and the rest of the convoy was opened to drivers who raised at least $500.
"The silver lining to all this," said Schladitz of the fewer number of trucks and COVID restrictions precluding the public from attending, "is that with just the drivers and their families attending, it let us focus on them and our sponsors and really thank them for all they do."
The RoadPro Family of Brands is the presenting sponsor for the convoy. It donated $30,000 to the event as well as gift bags for drivers and items for a raffle. T-Mobile was a new sponsor for the convoy and it donated $1,000 each to the fundraising efforts of five different drivers.
RELATED: RoadPro honored for support of Make-A-Wish Convoy
Unlike previous years, the public was not allowed to attend the convoy lineup. However, crowds lined the convoy route and also watched it live-streamed on Facebook.
Kim McDonnell is manager of customer experience for RoadPro and said, "It was a great day and we look forward to welcoming the full convoy and carnival next year at Manheim Auto Auction."
Convoy organizers -- who Schladitz called "the best committee on the face of the earth" -- also staged the annual chicken barbecue and once again held the event's auction online.
A total of funds raised by the convoy and associated events is expected to be known next month.