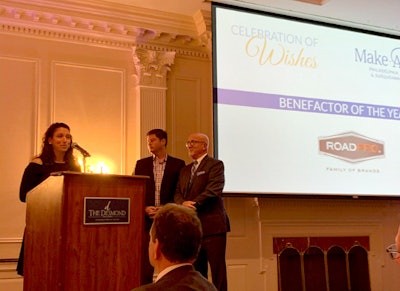 RoadPro Family of Brands was recently recognized as the Benefactor of the Year during the Make-A-Wish Celebration of Wishes event.
Held in Malvern, Pennsylvania Sept. 26, the event highlights the work of Make-A- Wish Philadelphia, Delaware & Susquehanna Valley, which serves local children with critical illnesses.
RoadPro Family of Brands has been the presenting sponsor at the Make-A-Wish Mother's Day Truck Convoy in Lancaster County for the last four years. The convoy is a major fundraiser event for the chapter and has been held for the last 30 years.
"Since 2015, when we were fortunate to secure RoadPro Family of Brands' first presenting sponsorship, the annual Mother's Day Truck Convoy began a transformation into a single day $600,000+ powerhouse fundraiser for local children with critical illnesses," said Dennis Heron, president and CEO of Make-A-Wish of the Philadelphia, Delaware and Susquehanna Valley. "Thanks to RoadPro, and their introductions to new sources of sponsorships and educating the trucking industry on the mission of Make-A-Wish, we now have the ability to grant in excess of 55 wishes within the Susquehanna Valley annually from this single event. Because of this, we could not think of a more deserving recipient of our 2019 Benefactor of the Year Award than our dear friends and partners at RoadPro."
Of the $600,000 raised at this year's convoy, $405,000 was brought in by the truckers in the convoy. The top 30 drivers alone raised $240,000.
"A stewardship heart is part of RoadPro Family of Brands core values and we are proud to support the Make-A-Wish Mother's Day Truck Convoy, that means so much to the community as well as the drivers that participate," said Chuck White, vice president, Brands and Marketing, "The Benefactor of the Year acknowledgment is a great honor and we look forward to our continued partnership with the Make-A-Wish organization and another successful event in 2020."
In a statement after the event, RoadPro said it "is proud to sponsor this event and looks forward to the 2020 Make-A-Wish Convoy which will move to its new location at the Manheim Auto Auction in Manheim, allowing additional space for the over 500 trucks that participate, ample parking space for the community and the Wish families, and an all-new route that will take the drivers by several official viewing stations."