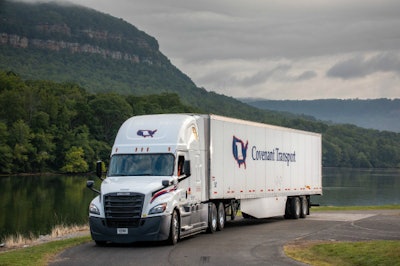 A Tennessee-based carrier recently was one of four recipients of an award for enhancing the image of the trucking industry.
Covenant Transport received the American Trucking Association's Mike Russell Trucking Image Award at the organization's annual industry gathering earlier this week in San Diego.
Covenant was the only motor carrier recipient of the award that honors trucking's champions of image, professionalism, and safety. The award also recognizes those who use innovative approaches to improve the image of the trucking industry.
"The Mike Russell Trucking Image Award is one of the highest honors we've received to date," said Joey Hogan, president and chief operating officer of Covenant Transport Services. "We're extremely appreciative of the ATA for helping us champion the Tomorrow's Truckers program to bring the excitement and energy of the trucking industry to America's youth."
Covenant Transport started the Tomorrow's Truckers program in 2015 in an effort to bring awareness of the trucking industry as a career to high school students around the Chattanooga region. As the program grew, Covenant sought an industry partner in the ATA to help bolster its reach to a broader national audience. Today, the Tomorrow's Truckers program is part of a national effort to educate young people on the benefits of a career in trucking.
Also honored were:
Minnesota Trucking Association for being one of the leading trucking image supporters at the state level, specifically by creating a three-pronged public relations campaign focusing on the need to develop reliable information, provide access to subject matter experts, and engage in working sessions with safety partners.
Fleet executive

Kevin Burch

of Jet Express Inc. for developing some of the industry's high-profile image efforts, including Trucking Moves America Forward trailer wraps and Safety Sammy.
America's Road Team Captain and YRC Freight professional truck driver

Steve Fields

for being the epitome of an American truck driver in his actions, professionalism and words.
The Mike Russell Trucking Image Awards are named in honor of the late Mike Russell, a trucking industry supporter and former ATA vice president of public affairs. Elisabeth Barna, chief operating officer and executive vice president of industry affairs for ATA, presented the award to Covenant.