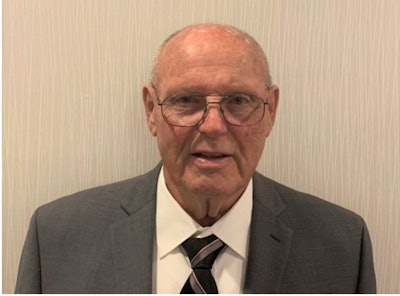 An Iowa-based driver who has been on the road for 51 years and who has logged more than 5 million safe miles was recently named driver of the year by the Ruan transportation management company.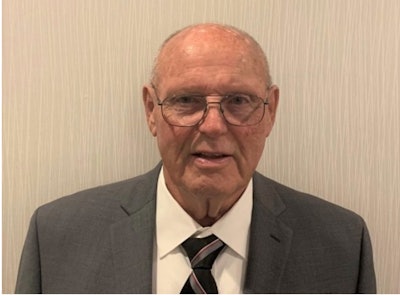 Marvin Trout was named Ruan's 2020 Driver of the Year. He was honored Sept. 30 during a company-wide virtual ceremony where he received accolades and recognition in front of his peers across Ruan's 300 operations.
Trout, who operates out of Ankeny, Iowa, has been with Ruan since 1983 and has been a professional driver for 51 years, logging more than 5 million miles. An Army veteran, he hauls concrete for the Rasmussen Group. Trout has been nominated as a Driver of the Year finalist twice before.
"Marvin is always the first person to volunteer to help cover loads, even when they are not on his assigned account," said Ruan's Dedicated Operations Leader Matt Fleming. "Marvin primarily works on our cement account, but because he always wants to be able to support any customer, he keeps his tanker and hazmat endorsements up to date.
"Marvin has gained extensive knowledge of not only all things Ruan over his long tenure, but also all the individual types of equipment and commodities hauled for our diverse set of customers. Marvin's knowledge, coupled with his safety-focused mindset, extraordinary work ethic, and care and compassion for his fellow team members, has translated into Marvin becoming the ambassador for our entire new Ankeny Operating Center."
Concrete Supply's Grimes, Iowa, Plant Manager Jasar Medinoski echoed Fleming in a letter of recommendation.
"Marvin has always been a joy to work with," said Medinoski. "He always has a great attitude and a great work ethic. Marvin always takes the extra steps to ensure the safety of himself, his fellow Ruan drivers that are on-site, and then all of the Concrete Supply employees that are also on-site at our Ready Mix plants. All in all, Marvin may not be an employee of Concrete Supply, but he always has been a part of our family here at the Grimes plant."
Ruan began the search for our Driver of the Year with 167 drivers from Ruan's 300 operations named as finalists. After the review process, just 10 out of 4,400 drivers were named to the 2020 Winners' Circle. Out of that impressive Winners' Circle, Ruan's leadership team selected Trout as best in class among a very talented, accomplished group of drivers, according to a statement from the company.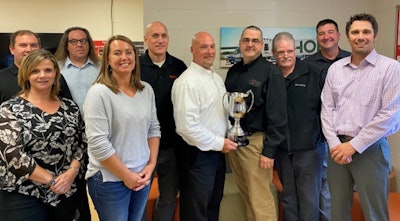 "This recognition is our way of honoring your dedication, professionalism, safety focus, and ongoing commitment to Ruan," said CEO Ben McLean at the virtual award ceremony. "We are so proud of our teams for carrying out this complex and difficult assignment with professionalism and dedication, especially as our industry experiences new opportunities and challenges. To date, we've recognized more than 185 drivers in our Winners' Circle. You join a distinguished group of our safest, most dedicated professional drivers."
Each Winners' Circle honoree was awarded a trophy and cash prize. Trout received a trophy and $5,000.
Also during the awards ceremony, Ruan's Mechanicsburg, Pennsylvania, operation, led by Dedicated Transportation Manager Dave Hendricks, was recognized as the 2020 Operation of the Year.
To select the Operation of the Year, each of our vice presidents of operations nominated the highest performing operation within their business unit. That performance was based on criteria including safety, team member retention, customer satisfaction, and overall performance. Our executive leadership team then narrowed the list of finalists to three Winners' Circle honorees—and from the honorees, the team picked the 2020 Operation of the Year.
The 2020 Operation of the Year received a trophy, awards for all winning team members, and a corporate-hosted celebration in Mechanicsburg, which will take place later this year.