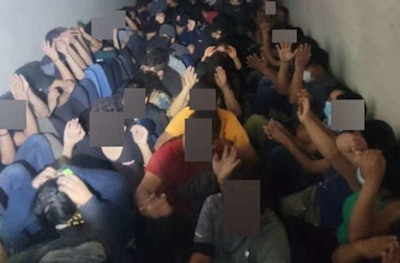 U.S. Customs and Border Patrol agents were busy late last month.
In one instance, agents arrested a driver and seized an estimated $24.4 million in drugs. In a separate incident agents discovered 142 migrants attempting to enter the country illegally.
1,221 lbs. of meth found in a tractor-trailer crossing from Mexico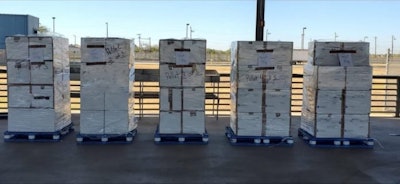 On Thursday, Sept. 23, border agents at the Eagle Pass Camino Real Cargo Facility in Eagle Pass, Texas found 1,221 lbs. of methamphetamine in the walls of an empty trailer. It has an estimated street value of about $24.4 million.
Border Patrol officers inspected a 2010 Freightliner tractor hauling an empty box trailer arriving from Mexico. The truck was referred for a secondary inspection by a specially-trained canine unit, then a non-intrusive imaging system, and finally a physical inspection.
CBP seized the drugs, truck, and trailer.
"Although anti-terrorism is our primary mission, CBP officers continue to maintain their vigilance to ensure commercial entries are safe and free of contraband, as this narcotics seizure illustrates," said Port Director Paul Del Rincon.
142 migrants found in trailer crossing in New Mexico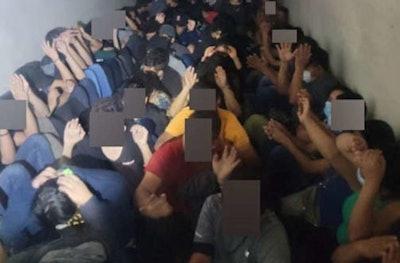 U.S. Border Patrol Agents discovered 142 migrants inside a tractor-trailer working in tandem with an SUV in New Mexico Friday, Sept. 17.
The migrants were discovered on Friday, September 17th near Anthony, New Mexico.
Agents from the Ysleta Border Patrol Station were notified of a possible human smuggling situation after agents witnessed two vehicles pull over with a tractor-trailer along a frontage road.
Agents discovered 11 migrants in the first car, where they inspected. Agents then checked on the second car, where they found two U.S. citizens.
The truck driver allowed agents to search the trailer, where they discovered 131 undocumented migrants. Agents said this is the largest group of migrants found inside of a tractor-trailer in recent memory, apart from those discovered directly at a border checkpoint.