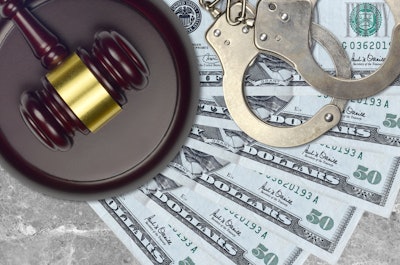 The owner of several California-based trucking companies has pleaded guilty to five felony charges, admitting he engaged in an array of criminal conduct, including:
ordering the illegal repair of a tanker that resulted in an explosion and the death of one his employees
committing tax evasion, which included failing to file income tax returns for six years
fraudulently obtaining more than $667,000 in Paycheck Protection Program (PPP) COVID-19 pandemic relief funds while on bond awaiting trial
Carl Bradley Johansson, 63, of Newport Beach, California pleaded guilty late Wednesday, Sept. 29 to two felony counts in relation to the tank explosion – one count of conspiring to make illegal repairs on the cargo tanks and to defraud the United States Department of Transportation, and one count of welding without required certifications.
Johansson also pleaded guilty to one count of tax evasion, one count of conspiracy to commit bank fraud and one count of bank fraud. Johansson admitted that he committed the bank fraud offenses stemming from the PPP scam while he was on pretrial release in the gasoline tanker explosion case.
Johansson controlled and operated two Corona-based trucking companies: National Distribution Services, Inc. (NDSI), which operated from about 2009 through 2015, and NDSI's successor company, Wholesale Distribution, Inc. (WDI), which does business as Quality Services. Johansson established NDSI following a 15-month federal prison sentence he served after one of his welders was killed in a similar tanker explosion in 1993. Johansson created WDI to take over NDSI's operations so he could continue to operate cargo tanks that were ordered out of service after two more welding explosions at NDSI in 2012 and 2014, according to court documents.
Even though NDSI was not certified to conduct in-house welding repairs on its cargo tanks, Johansson and his shop manager – co-defendant Enrique Garcia, 46, of Pomona – discussed directing two NDSI workers to repair a cargo tank on May 5, 2014.
The following day, Garcia issued the welding orders to the employees and the two workers began a welding project on the cargo tank. Because the tank had not been completely purged of its fumes and crude oil, the sparks generated by the welding repair caused an explosion, which killed one worker, seriously injured the other worker, and blew a hole in the roof of the warehouse.
Johansson admitted that, from May of 2014 to April of 2018, he and other employees of NDSI and WDI conspired to obstruct a federal investigation into the May 6, 2014 explosion by making multiple false statements to local, state and federal officials to conceal the illegal welding repairs, that Johansson controlled NDSI and WDI, and that the deceased and injured employees worked for him. For example, on the day of the fatal explosion, when investigators arrived at NDSI, Johansson identified himself as being a customer service representative with another company and said the welders were employed by an outside tank-repair company.
In August 2014, the Federal Motor Carrier Safety Administration issued an imminent hazard order – known as an "Out-of-Service Order" – to NDSI, which prohibited the company from operating approximately 37 cargo tanks to haul gasoline or ethanol because the FMCSA determined that those cargo tanks presented safety risks. Nevertheless, Johansson continued to use them to transport gasoline and ethanol.
Furthermore, Johansson admitted that he and NDSI submitted false statements to the FMCSA to have the Out-of-Service Order rescinded by the agency. Johansson signed, under oath, an affidavit that falsely claimed NDSI had never engaged in tank repairs and that Garcia worked for an outside tank-repair company.
To circumvent the FMCSA's Out-of-Service Order, Johansson, at the end of 2014, converted NDSI to operate under the WDI name. WDI had almost all the same employees and management as NDSI, and it operated out of the same warehouse. WDI continued to violate the Out-of-Service Order through early 2018 by using the prohibited cargo tanks to haul gasoline and ethanol.
As part of the conspiracy and to further conceal his control of NDSI and WDI, Johansson did not file income tax returns for the years 2012 through 2017. Johansson failed to report to the federal government at least $1,174,173 in income from the trucking companies. He used that income to pay for personal expenses – including renting a large home in Corona for at least $12,000 per month and using company accounts to make $200,000 in tuition payments at his children's private high schools and universities.
In total, Johansson admitted to unlawfully avoiding the payment of at least $298,562 in federal income taxes from 2012 to 2017.
In April of 2020, while free on bond in the tanker-related case, Johansson directed another trucking company he controlled, the Ontario-based Western Distribution LLC, to apply for a $436,390 PPP loan. After the loan was funded, Johansson directed Western Distribution in May and June 2020 to immediately spend the PPP funds, largely on non-payroll expenses. Rather than use the funds to keep the company's employees on staff, Johansson laid off most of the company's employees, but rehired many of them in late 2020. To create the impression that Western Distribution LLC had spent more of its PPP loan on its payroll than it did, in September 2020 Johansson moved 21 employees from a separate company that Johansson controlled – the Merced County-based Agri-comm Express, Inc. – onto Western Distribution LLC's payroll, even though those employees never worked for Western Distribution LLC.
In March of 2021, Johansson caused Western Distribution LLC to repeat the same fraudulent representations concerning its employee lists and payroll numbers when the company submitted a second PPP loan application, this time for $231,527. The second loan application was also approved.
The total loss in the COVID-relief fraud matter is approximately $667,917.
United States District Judge Virginia A. Phillips has scheduled a May 9, 2022 sentencing hearing, at which time Johansson will face a statutory maximum sentence of 100 years in federal prison.
Also in court Wednesday afternoon, Western Distribution LLC pleaded guilty to one count of conspiracy to commit bank fraud and one count of bank fraud. Under Johansson's direction, the company applied for and received approximately $667,917 in PPP loans that were fraudulently obtained and spent.
NDSI and WDI each pleaded guilty Wednesday to one count of conspiring to make illegal repairs on cargo tanks and defrauding the United States Department of Transportation. NDSI pleaded guilty to an additional count of welding without required certifications.
The three companies are scheduled to be sentenced on May 9, 2022.
Co-defendant Donald Cameron Spicer, 69, of Fullerton, who was the safety manager at Johansson's companies, pleaded guilty on August 16 to one count of conspiracy to violate federal law by causing illegal repairs on cargo tanks and defrauding the United States Department of Transportation. Spicer was Johansson's safety manager at NDSI and WDI when the welding explosions occurred. Spicer is scheduled to be sentenced on Feb. 14, 2022.
Garcia is scheduled to go on trial on Jan. 18, 2022.