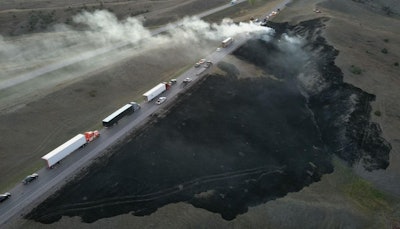 SDSP
The driver of a tanker loaded with gasoline died in a blaze that occurred when the tractor-trailer overturned and caught fire over the weekend near the New York and New Jersey border. Meanwhile, the driver of a flatbed loaded with hay escaped injury when their load caught fire in South Dakota.
A 59-year-old driver from Paterson, New Jersey died when the tanker he was driving crashed on Route 287 South in Mahwah, New Jersey Saturday morning, Oct. 2. A New Jersey State Police spokesperson said the accident occurred at about 6:45 a.m. in the southbound lanes near the border with New York state. The driver was exiting a ramp from Route 17 to southbound 287 when the tanker overturned, according to police.
The highway was closed until about 2 p.m.
Also on Saturday, a trucker escaped injury when the load of hay they were hauling caught fire and burned alongside Interstate 90 in South Dakota. The fire also burned six acres of grass in the center median and along the north side of the highway.
I-90 was closed for some seven hours as firefighters worked to extinguish the blaze and clean up afterward.
Neither driver was identified by police.