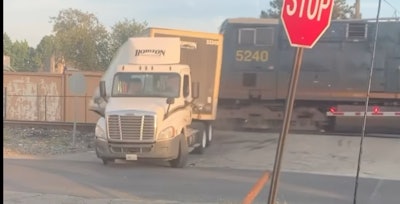 No injuries were reported Thursday, Sept. 30, after a CSX freight train slammed into a tractor-trailer said to have been stalled on railroad tracks in Indianapolis.
An off-duty firefighter captured video of the moment a train smashed into the trailer, which was loaded with barrels of starch.
The Indianapolis Fire Department reports debris from the explosion flew 50 feet onto the roadway and burned. A mangled section of the trailer was stuck on the front of the train engine.