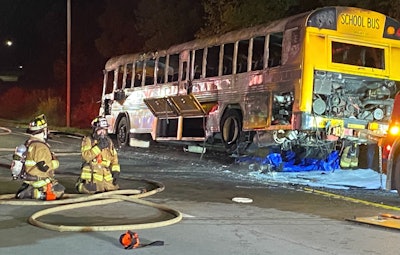 Sometimes making a wrong turn can be a good thing.
Such was the case for a Texas trucker and an entire football team from a Kentucky high school.
Alvin Edwards, a trucker from Carrollton, Texas, was driving on Interstate 75 in Kentucky Sept. 24 when he noticed a school bus in front of him was on fire.
Edwards, who drives for J & H Transportation, was able to get the attention of one of the team's coaches who got the bus driver to stop the bus. Edwards said one of the wheels on the bus was on fire.
The Texas trucker stopped, got his fire extinguisher, and ran to the bus. His efforts were fruitless, so he told the passengers -- the players and coaches of the Scott County High School football Cardinals -- to get off the bus and to safety alongside the interstate.
The team owes its survival to bad directions Edwards said he got from his truck's GPS. After stopping for dinner, the GPS sent Edwards the wrong way, and straight to the football team and its bus that was ablaze.
Edwards, himself the father of a high school football player, said he had no choice but to stop and render whatever aid he could.
"There's no way in the world I could have not done anything when I see a school bus with kids in it on fire," he told a Dallas-Fort Worth TV station.
Edwards was honored this past weekend during "the Battle of the Birds," which is the rivalry game between Scott County's Cardinals and the Great Crossing Warhawks. (The Cardinals won 14-6, and improved their record to 3-3.)
The Cardinals hosted Edwards and his family at the game, and honored him on the field with the presentation of a jersey signed by all of the players and coaches who were on the bus at the time of the fire.
Edwards also received a key to the city, a proclamation, and was also named a Kentucky Colonel, the highest honor given by the state's governor.
In response, Edwards told another media outlet, "I don't feel like I'm a hero, I'm a man, and that's what I'm supposed to do as a man. Make sure that those kids were safe."