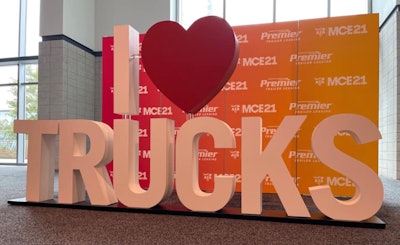 ATA
A FedEx Freight driver, a liquid bulk carrier based in New Jersey, a state trucking association, and a truck manufacturer executive were honored during the American Trucking Associations Management Conference and Exhibition in Nashville.
ATA presented four Mike Russell Trucking Image Awards to:
Carbon Express for their work to improve their drivers' quality of life, outreach to the community through social media, and their work with America's Road Team
The Indiana Motor Truck Association for their work to promote safe driving by working with state officials on several anti-distracted driving campaigns
America's Road Team Captain Wayne Crowder, a professional driver with FedEx Freight, for his work promoting the industry's image
And John Walsh, vice president of marketing at Mack Trucks, for his role in helping ATA advance the cause of safety through its show trucks, including the Share the Road and Workforce Heroes trucks
RELATED NEWS: 3 receive annual Mike Russell Trucking Image Award
First awarded in 2007, the Mike Russell Trucking Image award is given to an individual, motor carrier, trucking organization, and industry supplier who each demonstrate excellence in illustrating the industry's essentiality, professionalism, and commitment to safety on and off the highways.
"Since 2007, the Mike Russell Trucking Image Awards have shone a light on the great work our carriers, associations, and most of all, drivers do in promoting the image of the trucking industry," said Incoming ATA Chair Harold Sumerford Jr., CEO of J&M Tank Lines Inc. "This year's winners have all gone above and beyond to show just how safe, professional and essential trucking is."This year's winners of the Mike Russell Trucking Image Awards are:
This year, for the first time, the Mike Russell Awards are sponsored by Great West Casualty Company.