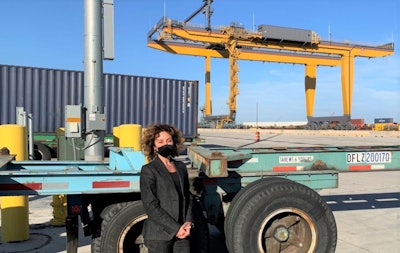 Federal Motor Carrier Safety Administration Deputy Administrator Meera Joshi earlier this week met with several transportation organizations in the Midwest as part of efforts to strengthen commercial vehicle safety, bolster truck driver availability, and improve rail-to-truck supply chain efficiencies. The meetings were part of efforts by the Biden Administration to address supply chain disruptions.
Truck driver retention and recruitment has been a focus of the White House Task Force on Supply Chain Disruptions. The core reason for America's truck driver capacity issue is the "startlingly low retention of current drivers," according to a statement from the FMCSA.
In July, Transportation Secretary Pete Buttigieg hosted a roundtable on truck driver recruitment and retention to bring together members of the trucking industry, labor, and other stakeholders to discuss possible solutions. As a result of the roundtable, DOT and DOL are working with the truck driving industry to bolster paid apprenticeship programs as an added tool to address the ongoing driver shortage crisis in the tank truck industry.
Additionally, the DOT is supporting state departments of motor vehicles to help address the truck driver shortage. According to the FMCSA, in 2021, an average of 50,000 commercial drivers licenses and learners permits have been issued each month, which is 14% higher than the 2019 monthly average and 60% higher than the 2020 monthly average.
RELATED NEWS: Committee approves FMCSA's Joshi nomination; next stop is full Senate
"Truck drivers are essential professionals who have been working on the front lines of this pandemic," said Joshi. "It's hard to overstate the critical nature of trucking to the wellbeing of our nation. Truck driving is a vital segment of the supply chain, and our focus is on continually enhancing workplace practices while improving efficiencies including decreasing driver detention time while ensuring the highest level of safety possible for every roadway traveler."
During her Midwest trip, Joshi met with representatives of the Illinois Farm Bureau Association, the Illinois Trucking Association, Union Pacific Railroad's Global IV Intermodal Terminal, and at a United Parcel Service driver training facility.
"The Illinois Trucking Association sincerely appreciated the opportunity to meet with Deputy Administrator Joshi to discuss the issues that are most important to the trucking industry," said ITA Executive Director Matt Hart. "Seventy percent of Illinois communities depend entirely on the trucking industry to deliver their goods, and our industry accounts for one in 16 jobs in the state. Because our industry is facing unprecedented challenges with our supply chain and with our workforce, we welcome the opportunity to discuss these problems and possible solutions to ensure we safely deliver the essential goods that Americans need each day. We look forward to continuing to work with FMCSA to ensure our nation's freight is delivered safely."
A statement from the FMCSA said discussions covered a broad range of strategies to improve supply chain movement and roadway safety including:
streamlining the transport of fuel to farm equipment
beneficial updates to electronic logging devices
replicating proven driver training and retention models
ways to improve rail-to-truck intermodal chassis maintenance and chassis availability