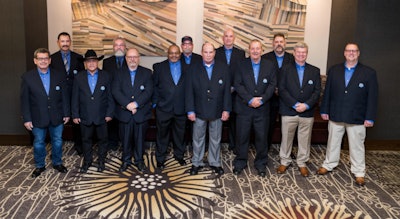 Penske Logistics
Penske Logistics added 22 drivers into its 2020 and 2021 Diamond Classes, the highest level of safety recognition at the company. The inductees have achieved 20 consecutive years of preventable incident- and injury-free driving.
To recognize the 2020 and 2021 Diamond Classes, the drivers – along with their families and supervisors – were recently invited to a recognition ceremony to celebrate their accomplishments at the Penske headquarters in Reading, Pennsylvania.
Members of the Diamond Class have their names inscribed on the Driver Wall Hall of Fame at the company's global headquarters.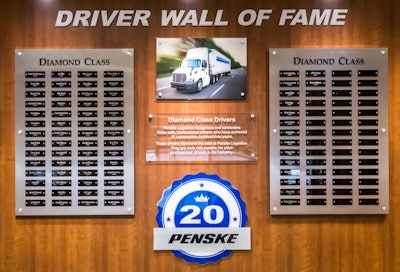 The Penske Logistics 2020 Driver Wall of Fame inductees include:
Perry Bastian, Pennsylvania
Kevin Baty, Michigan
Esequiel Carmona, Texas
Saturnino Garcia, California
Gabriel Gurrola, Texas
Ronald Hayduke, Tennessee
David Hertzberg, Michigan
Randolph Jezewski, Michigan
Joseph Kilgo, Ohio
Ricky Kiper, Kansas
Robert Morgan, Maryland
Robert Morris, Ohio
James Reda, Michigan
Donald Reinert, Michigan
Gregory Sabo, Michigan
Chris Secord, Ontario
Roland Simpson, Michigan
Mark Willoughby, Michigan
The Penske Logistics 2021 Driver Wall of Fame inductees include:
Shawn Daly, Michigan
Michael Ebenhoeh, Michigan
Jeffrey Farley, Michigan
Richard Mulherin, Michigan
Penske Logistics typically celebrates and inducts one class a year. It was decided to recognize both the 2020 and 2021 Diamond Classes this year as the 2020 induction ceremony was canceled due to the COVID-19 pandemic.