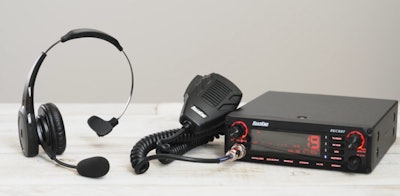 America engaged in a new national pastime during 2021: fretting over shortages of products caused by ongoing supply chain problems.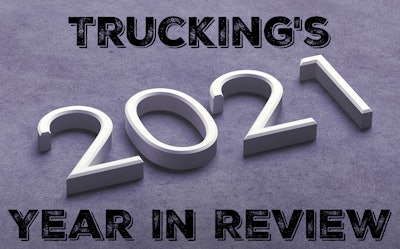 However, the year about to close was still an exceptional year for the arrival of products aimed at making the truck driver's life safer, more comfortable, and more profitable. Some were new electronic devices and others were gadgets to ensure those other devices remained fully fueled and functioning. Still others were aimed at making life on the road a bit more like life at home.
Our purely subjective year-end list of our favorite trucker gear of the year includes:
RoadKing breaks new ground with Bluetooth-enabled CB
RoadKing, part of RoadPro Family of Brands, early this year introduced the first-of-its-kind Bluetooth CB radio that provides complete hands-free communication bringing the CB Radio into the 21st century, according to the company.
RELATED NEWS: Numerous truckers honored during 2021
This is the first device to provide a seamless transition between the CB radio, smartphone, and Bluetooth headset with one touch. Pushing the multi-function button on the Bluetooth headset allows the user to switch between a conversation on the CB radio to an incoming call and talk hands-free. This makes for an effortless transition between a CB conversation and an incoming call.
It includes a RoadKing 940 noise-canceling Bluetooth headset, which is already paired to the radio, and a dynamic 4-pin handheld CB microphone, as well as an optional push-to-talk button. This industry-first CB radio system also features a seven-color display, NOAA weather alerts, PA function, and talkback.
The RoadKing voice-activated hands-free CB radio system is available at travel centers and truck stops throughout the US and Canada.
Motor Carriers' Road Atlas gets annual update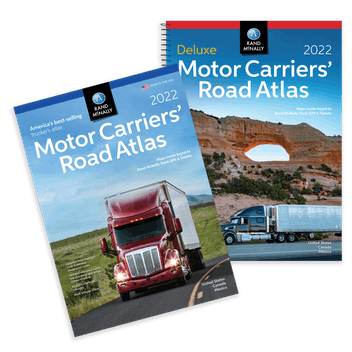 Rand McNally in July released its annually updated edition of its iconic Motor Carriers' Road Atlas. The atlas for professional truck drivers features updated maps that highlight truck-accessible roads, a roster of current state trucking regulations and fuel tax charts.
Among numerous updates in the 2021 edition are:
The inclusion of mileage-based exit numbers in Massachusetts and Vermont
The addition of the southern extension of John Kilpatrick Turnpike in Oklahoma City
The re-routing of U.S. Hwy. 52, around Dubuque, Iowa
Updated restricted routes on the maps
Changes to low-clearance and weigh station locations
Verification of more than 40,000 truck-route-specific, city-to-city mileages
Confirmation of weight and size limitations as mandated by states and provinces plus verified registration guidelines, phone numbers and websites for state police and operating authorities
Updated contacts for state toll systems, hotlines for road construction and conditions, and a review of Hazardous Materials (Hazmat) regulations.
The new edition, which comes in paperback as well as a spiral-bound version with write-on/wipe-off laminated pages, is available at travel centers, in bookstores, online, and at the Rand McNally online store.
New 5.5" screen option added to Garmin navigators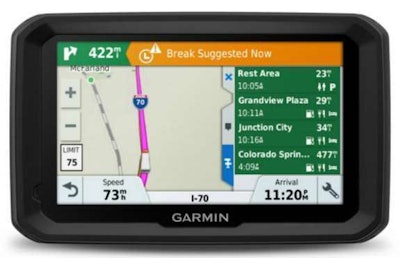 Garmin International, Inc. introduced the latest entry into its line of dēzl GPS units. The dēzl OTR500 features a new 5.5" size with a crisp, HD resolution touchscreen display that is easy to see and operate on the road.
This addition to the dēzl OTR lineup, which includes the dēzl OTR700/800/1000, gives truck drivers more options when it comes to the size of their GPS truck navigator. The entire dēzl OTR family also introduces PrePass weigh station bypass. With an active PrePass account, truck drivers receive on-screen notifications about upcoming weigh stations and bypass options, saving time and improving efficiency.
Key features on the dēzl OTR series:
Available in a 5.5-, 7-, 8-, and 10-inch display size
Custom truck routing based on size and weight of rig and load
Road warnings for bridge heights, weight limits, and sharp curves
Load-to-dock guidance shows potential loading zones and storage lots near a destination
Truck and trailer services directory, popular truck paths, truck parking, and break planning
Smart features include Garmin voice assistant, Tripadvisor traveler ratings, live fuel prices, traffic and weather when paired with the Garmin Drive mobile app on a compatible smartphone
Works with the Garmin eLog compliant ELD and select Garmin backup cameras (each sold separately)
The new dēzl OTR500 offers the same features as the other larger OTR models in a compact, 5.5" size and an entry-level MRP of $299.99.
Helpmate snow shovel ideal for cab convenience
Shoveling snow just got easier, with this lightweight – but serious – design and D-shaped handle. The shovel features a metal edge, foam grip, and a telescopic pole that extends 3.5 feet. Available at travel centers, truck stops and many big box stores for about $29.99.
Blue Blaze 'steeped coffee' bags for simple brewing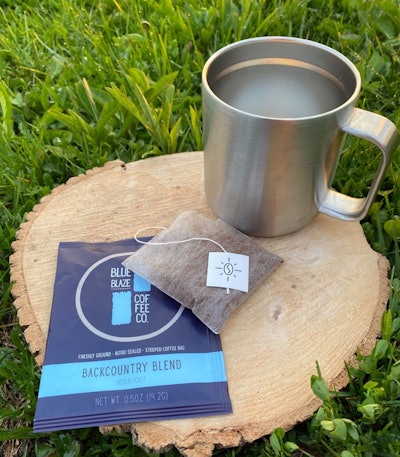 Upstate New York's Blue Blaze this year brought to market what it calls "steeped coffee products." These are akin to teabags but filled with coffee instead of tea. You immerse a bag in hot water, let it steep and then dunk it as you would a teabag.
They offer two brews:
Backcountry Blend, which is a medium roast
Switchback Blend, which is their dark roast
Both come in real coffee and in decaf.
A package of 10 bags is $20 and a package of three bags is $6.50. Both Blue Blaze blends have good coffee flavor, and are without that somewhat metallic taste you get with traditional instant coffee.
If you have a microwave, a 12-volt electric kettle or even an electric immersion water heater you can enjoy good coffee even if there isn't a truck stop handy.
BlueParrott adds two new wireless headsets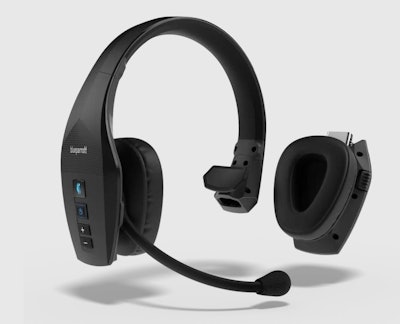 BlueParrott late this year introduced two new wireless headsets.
The B650-XT is the company's most advanced wireless mono headset, while the S650-XT uses an additional earpad to change from a mono headset to use while driving to a stereo one for when you're off the road and relaxing.
Both have superior noise-canceling properties, eliminating as much as 96% of background noise.
Other features include:
36 hours of talk time
600 hours of standby time
300 feet of wireless connectivity range
IP54-rated protection against dust and water
BlueParrott Button for customized, one-touch functions
voice activation to activate the headset, control calls, get GPS directions
pairs seamlessly with iPhone and Android operating systems
padded over-the-ear headband for maximum comfort
Bluetooth 5.1 allows you to connect to two devices simultaneously
over-the-air software updates
The B650-XT and S650-XT are available at big box stores, travel centers, and online.
RoadPro two-sided auto table for when you're not driving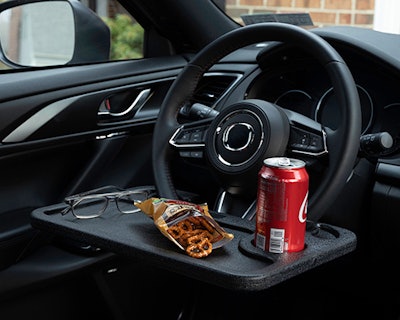 Once again, you're in line to unload. The wait could be 20 minutes. Then again it could be an hour and a half. However long, it's not time to be wasted.
This two-sided auto table from the RoadPro Family of Brands can help you be productive while you wait. It attaches to your truck's steering wheel and gives you a flat, stable surface you can use to set up your laptop or tablet and catch up on your paperwork or emails. Then again it allows you to stream a movie or livestream to the folks at home.
The 16.77" x 11.88" sturdy plastic surface is also an ideal resting place for a cup of coffee and a snack or a full meal in case your wait continues longer than expected.
Available at most travel centers and truck stops.
Leatherman delivers Bond, a lightweight multi-tool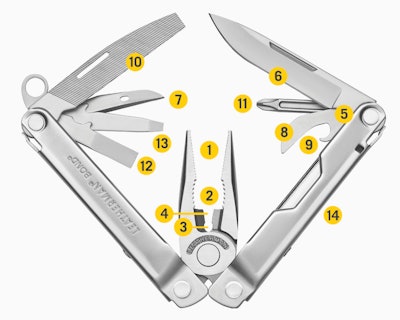 New this year from legendary multi-tool maker Leatherman is the Bond. While it, like other multi-tools from the company, has numerous features, the Bond is more compact and lighter. At just $49.95 it's also less expensive than many other models.
The smaller Bond has 14 tools, including:
1 Needlenose Pliers
2 Regular Pliers
3 Hard-wire Cutters
4 Wire Cutters
5 Wire Stripper
6 420HC Blade
7 Awl
8 Can Opener
9 Bottle Opener
10 Wood/Metal File
11 Phillips Screwdriver
12 Medium Screwdriver
13 Small Screwdriver
14 8-inch Ruler
BlackCanyon Outfitters Electric Blanket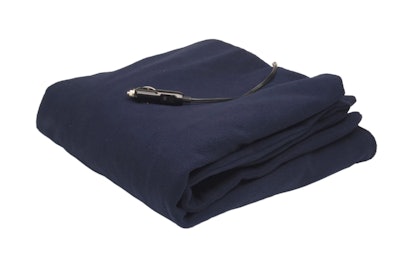 Staying warm in your cab at night is not just a question of comfort, but at times can also be one of survival. The last thing you can afford is to get and stay chilled.
BlakCayon Outfitters offers two sizes of electric blankets that plug into your truck's 12-volt port. One is 58" x 42.5" ($52) and the other is 57" x 27" ($32)
Both are made of 100% polar fleece and have 8-foot-long power cords. The larger one draws just 4.6 amps and the smaller is even stingier, drawing only 3.3 amps. Each comes with a zippered storage bag to protect your investment.
They can be found at most travel centers and truck stops and various stores online.
Put on your glasses and listen to your music
Bose offers folks the opportunity to have the high-level sound they are used to getting from the audio mega-maker in a somewhat unusual device: a pair of stylish sunglasses.
Bose Frames Alto features speakers in the earpieces, but not in the wearer's ears. You can connect to your smartphone with Bluetooth and touch just one button to turn on your glasses, answer calls, play and pause music, and access a voice assistant like Siri or Google Assistant.
Bose Frames Rondo offers the same features but in a slightly rounder frame style. They're available online for $199.
12-volt soft-sided cooler bag makes cab cooking easier
Making the most of your driving day can often mean making sure you have food and refreshments with you in your truck. (It also allows you to stretch your paycheck by bringing food from home or stocking up at a grocery store.)
A new 12-volt, soft-sided cooler from the RoadPro Family of Brands makes that possible.
This well-insulated cooler is big enough to hold 24 12-ounce cans, meaning it gives you plenty of room for your food and drinks.
Plugging into your truck's 12-volt port gives you enough cooling power to keep things 40 degrees cooler than the ambient temperature. It connects with a 6-foot-long, detachable cord and features a 10-amp fuse.
An adjustable shoulder strap makes it easy to carry. It can be stowed in a handy exterior pocket.
This cooler sells for $61.99 online or can be found at truck stops and travel centers.
Anker PowerCore 10000 keeps your devices charged
Anker's charging products are generally well-regarded and highly rated. Its PowerCore 10000 power bank is no exception.
It packs enough battery capacity to recharge your smartphone from zero to full two or three times. And, it supports fast charging technology as well.
One of the things that set the PowerCore 10000 apart is its size. It weighs less than seven ounces and at 3.6" x 2.3" x .9", it'll easily fit in a pocket for charging convenience.