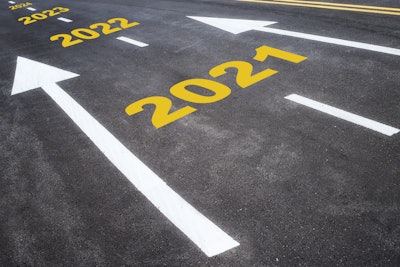 If we had to sum up in one word truckers' feelings about 2021, that word would be, "Mixed," and even that might be a bit generous.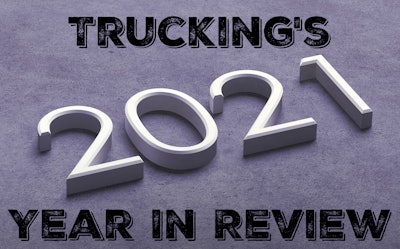 Results from a Truckers News online poll found that a bit more than half of those who responded were pretty unimpressed by what went on for them during 2021. Conversely, about a third of respondents actually felt pretty positive about the year about to expire.
The detailed breakdown of almost 400 responses found truckers rated 2021:
Fair. About the same as 2020. 28.61%
Excellent! Far better than 2020. 20.06%
Good. Almost back to pre-COVID. 17.99%
Just glad it'll be gone. 15.04%
Poor. Like last year but even worse. 11.8%
Other: 6.49%
For those who chose "Other", here are a few of their reasons why:
Well, the last 3 months have been liberating, I became an owner-op on my birthday.

Horrible recruiting.

No parking, lousy fast food, good restaurants closing, time to retire.

Haven't been affected much.

A good year. Penske Truck Leasing did well; hikers worked all year, bonus coming.

Great! I retired and got out of that rat race.

I'm getting out after 45 years. I had enough.

Strange year. Worked harder than ever, and practically nothing to show for it.

Very bad.

Very busy year. Just wish rates would stay strong to offset high operational costs.

The chip shortage affected the industry.
RELATED NEWS: How 2021 sounded: A year's worth of the Truckers News Podcast
RELATED NEWS: 2021 was a good year for trucker gear, devices
RELATED NEWS: Numerous truckers honored during 2021
A recent CBS News poll found that 42% of Americans said 2021 was mostly filled with happiness for them personally. But, 40% said the year was loaded with personal sadness. That happiness figure is up by 20 percent over last year.
Looking ahead, 71% of Americans said they are hopeful for what 2022 holds for them while 22% said they are discouraged by the year ahead.
Throughout the year, we frequently polled our readers on a variety of topics. Here are the results of some of those online polls:
Will it be a new job in the new year for you? Yes, 46.3% | No, 37.5% | Unsure 16.2%
Do you feel like you are on track for your retirement savings? No, 64.9% | Yes, 25.5% | Unsure 9.6%
Do you use your cell phone while driving? Just for calls, 52.1% | I'm not telling, 20.8% | Never 17.5% | I'll send a text or two, 9.5%
How do you feel about inward-facing cameras? I would never give up my privacy like that, 67.3% | I'll tolerate them, but I don't like them, 24.5% | It keeps me from being held liable in an accident, 4.8% | I don't care either way 3.4%
Have you ever quit a job because you couldn't get time off when you needed to? Yes 72.5% | No 27.5%
Would you take a job that offered NO paid time off? Absolutely not 61.8% | Depends on the other benefits like pay and home time, 26.7% | It's not an issue for me, 11.5%
What would you do if the company you drive for required you to get the COVID vaccination? Make them for me, 35% | Doesn't matter, already been vaccinated, 23.8% | Quit if they made me get the vaccination, 15.9% | Claim an exemption based on health or religious grounds, 15% | Get vaccinated 5.4% | Other, 4.6%
Would overtime pay help reduce truck driver turnover? Yes 79.9% | No, 20.1%
What's the number one reason you are at your current job? Pay is good 40.1% | I get good home time, 23.8% | I feel respected, 20% | I'm looking for something else, 13% | I just started, 2%
Which is the most important factor in choosing a fleet to drive for? Consistent pay, 36% | Reputation for driver treatment, 32.8% | Consistent home time, 23.5% | Health insurance, benefits, 7.7%
On Saturday, Jan. 1, we'll have the results of our poll about drivers' outlook for 2022.