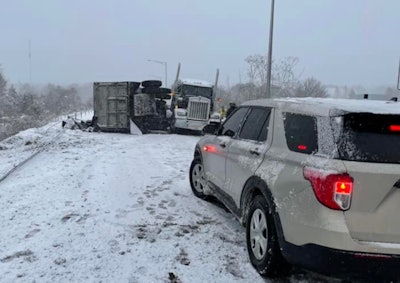 News from the National Weather Service is neither welcome nor unexpected for this time of year. Today's weather outlook includes:
Quick hitting Nor'easter to bring disruptive snowfall to parts of the Northeast and New England today
Heavy mountain snow and gusty winds to impact the Pacific Northwest and Northern Rockies to end the workweek
Dangerously cold temperatures located throughout the Northern Plains and Midwest this morning to briefly retreat on Saturday, before the next surge of arctic air enters the region on Sunday
The Wyoming Highway Patrol this morning said "there will be high wind warnings for much of the state today, and likely closures to Light & High Profile Vehicles. Please monitor wyoroad.info or 511 for updates on opening times for I-80 as well as potential wind closures. If/when it opens, please be safe and allow extra travel time."
The Maryland State Highway Department warned, "High winds are expected throughout the state increasing the danger of downing powerlines and trees."
This less-than-cheery outlook comes on the heels of nasty weather that caused massive traffic tie-ups and pile-ups earlier in the week.
The weather service today said an area of low pressure off the Mid-Atlantic coastline is forecast to move northeastward today and reach the Canadian Maritimes by tonight. Moderate-to-heavy snow remains a possibility across coastal New England. Total snowfall amounts of 4 to 8 inches are expected over eastern Connecticut, Rhode Island, eastern Massachusetts, and coastal sections of Maine. Winter storm warnings and winter weather advisories are in effect.
Immediately behind this system, cold and blustery conditions are expected throughout the Great Lakes, Mid-Atlantic, and Northeast. With the Great Lakes still mostly free of ice, scattered lake effect snow bands are likely to form and extend into much of the Northeast through tonight.
A surge of moisture is forecast to hit the Northwest this morning while also dumping heavy mountain snow across the Northern Rockies. Snowfall amounts up to 1-2 feet are possible throughout the high terrain. A cold front is forecast for the region, and gusty winds up to 60 mph are expected throughout the Northwest, Northern Great Basin, and Northern Rockies today. These potent wind gusts could lead to blowing and drifting snow over parts of northwestern Montana, where Blizzard Warnings are in effect. The weather pattern should quiet down by Saturday across this part of the U.S.
An arctic cold front is expected across the Northern Plains Saturday afternoon and enter the Midwest Sunday morning. Light rain and freezing rain/drizzle are possible along and ahead of this cold front. The best chances for light freezing rain exist from the Mid-Mississippi Valley and Midwest on Saturday to the northern Mid-Atlantic by Sunday morning.
In the South, this cold front may spark scattered thunderstorms over the Lower Mississippi Valley. Thunderstorms could turn severe over southeast Texas, with isolated tornadoes and damaging wind gusts the main concern.
Here's how recent weather issues looked on social media this week: