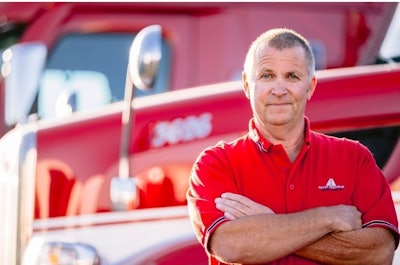 EDITOR'S NOTE: This is the latest in a series of feature profiles of the three finalists for the Company Driver of the Year Award presented by the Truckload Carriers Association and Truckers News. Stories about Denny Cravener and Robert Cole the other two finalists will also appear. The winner, who will be announced at the TCA's annual convention in Las Vegas in March, receives $25,000. The runners up each get $2,500. The contest, and one for the Owner-Operator of the Year presented by TCA and Overdrive, are sponsored by Love's Travel Stops and Cummins.
___
Robert Howell's trucking origin story is like that of many professional drivers of his vintage. He grew up on a family farm, cut his driving teeth on delivering that farm's crops to market, and then got into the industry at an especially young age.
But, unlike many of his contemporaries and others driving today, after getting his training with a major carrier, Howell signed on with one smaller company, and stayed there. That was more than 34 years ago.
"Every day since," said Howell in his nomination materials for the contest, "I have dedicated my life to the trucking industry."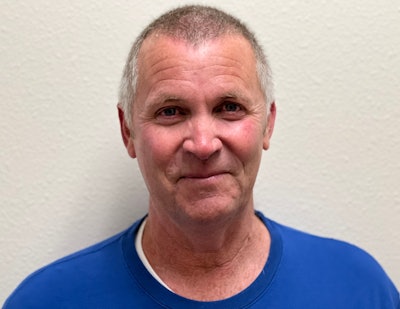 Today, Howell drives for Doug Andrus Distributing LLC a family-owned carrier of some 250 trucks and 500 trailers based in Idaho Falls, Idaho. Since joining the company at age of 25, Howell has logged over 5 million accident-free miles and was twice (2006 and 2016) named Idaho's driver of the year.
"I've wanted to drive trucks since I was just little," said Howell. "That's all I've ever wanted to do; either that or farming, and you can't make any money farming. So, I became a truck driver."
Howell said he started hauling the family's crop at the age of 15, pushing a Chevy 10-wheeler with an APU bed on it down Idaho roads. Granted, it was only two or three miles each way, but Howell said it was enough to cement his career path. And, he continued hauling spuds to market for the family and others for several years.
At the age of 24, Howell took a big step, going over-the-road for C.R. England. He said he did that for about six months before joining Doug Andrus, which had some 26 trucks at the time, hauling fresh potatoes East and coming back with anything that needed hauling west, generally to Salt Lake City.
Howell recalls he loved driving and the opportunities it provided.
"You know, I wanted to see the country because as a farm boy from Idaho, you don't get out of Idaho that much," said Howell. "I just enjoyed the different areas of the country, and the different weather and stuff."
Howell said making a delivery in downtown Chicago was quite an eye-opener for a young man whose hometown had 325 people.
Over the years, Howell grew as a driver and Andrus grew as a company, starting a flatbed operation that he joined. Howell said he also pulled hopper trailers. Combined this meant frequent trips to Utah, hauling lumber south and coal back to Idaho.
Over the years, the equipment has changed and so has the cargo. And, so has the industry and life on the road.
"Back then," said Howell, "Things were pretty basic. There were no cell phones so you had to find a phone and call in if there were questions or problems. Back then it was, 'Call back in an hour. Call back in two hours. Or, call me when you have something for me.'
"Now, they know where we are all the time. If they need you all they need to do is punch in your name or your truck number."
Today, Howell is driving more regional routes. He often hauls potatoes from Idaho to Washington state, and then returns with potatoes that have been processed into French fries.
"So now it's 500 miles and 500 miles back Monday through Friday or Monday through Saturday afternoon," he said.
Because of the COVID-19 pandemic, Howell said his work slowed, but only a bit. As fast food restaurants reopened and people started dining out and traveling more, everyone needed more French fries. And, many of those potatoes get processed in the U.S. but shipped to be consumed in Asia.
But, with all of the changes in the industry, Howell has kept his sense of humor and his sense of loyalty to the company and the industry.
"There have been times I've run across Wyoming in a blizzard," said Howell. "It's like driving into a bowl of milk. It's 11 at night and the wind is blowing 90 miles an hour and I think to myself, 'Why didn't I learn to be an accountant?'
But, it's also at those times that Howell's dedication to the profession and his connection with other truckers comes out.
"There's chaining up," said Howell, and you can hear the disdain in his voice. "The worst part is thinking about getting out and getting them on. But, you do it. You put on your coveralls and your rubber gloves and get out there. It only takes 10 or 15 minutes and you have to do it. I bet I chained up at least 10 times in the last month.
"When there's a storm, you just get out and do it. There are a lot of guys who try to get away without putting on chains. Then they spin out and there you are, sitting by the side of the road."
Howell said he has given some new drivers tips on how to throw chains, and plenty of other trucking topics as well. What's he tell new and prospective drivers?
"Well, you cannot expect to go home every night, and you're not going to work from eight to five. You get someplace and they're supposed to unload you at 10 in the morning and it turns into 10 at night.
"Don't get in a big hurry and make the guy inside mad. He couldn't care less what you do. Just calm down, find something to do. Don't be in a rush."
Sage advice from a lifetime trucker who's 59 years old and pushing 60 real hard. But, then again Howell is one of the fortunate folks who truly likes what he does for a living.
"I enjoy what I'm doing," said Howell. "If you don't enjoy what you're doing, you better find a new job because to get up and go to work every morning, you ought to enjoy yourself.
"So, I enjoy my job, but I don't enjoy the part about being gone all the time. I might leave here today and I might be home tomorrow night. Or, I might, might not be home until Friday. It all depends on where the loads are. But, if we get close to the house, if we come to like American Falls, which is 60 miles away, we just come home and spend a night."
Like other drivers his age, Howell knows there are expectations by some folks that he will retire. That's not something that weighs on his mind.
"I don't see myself retiring at 65," said Howell. "What the hell would I do? I've been driving this truck12 hours a day, seven days or so for 35 years, I don't golf. I work in my yard, go camping with the kids and stuff, but I don't go golfing. I'm not hitting the ball and going to chase it someplace. I only went golfing once and I didn't have to worry about losing the ball because I didn't hit it far enough."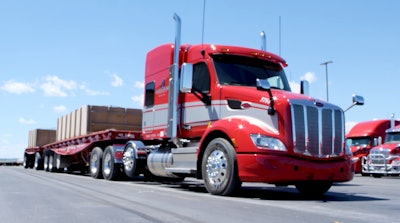 Recommendation from
V. Clay Murdoch
CEO of Doug Andrus Distributing
It is with honor that I recommend Robert "Robbie" Howell for Company Driver of the Year for 2021.
Robbie has logged over 5 million safe miles during his 34 years with Doug Andrus Distributing. He started working at the company in 1987 when he was just 25 years old. Internally, we often cite him as the example of the ultimate professional driver. He has literally become the "poster child" of the company and we frequently use him in our company advertising.
He is the most dedicated and consistent driver we have ever had. He has the truck driver life figured out. He plans everything from when he will leave, where he will make stops for fuel, and where he will take his breaks, thus ensuring on time deliveries. He packs meals made at home which allows him to eat healthy while on the road. He also has an on-the-road exercise routine that he faithfully adheres to. This has helped him stay in great shape over the years and has put him in a position to be able to work several more if he chooses.
Robert is a devoted husband, father, and grandfather. He works hard to provide for and teach his family. Perhaps the greatest things he has taught his family are the same things he has taught the rest of the company: work hard, be dependable, and get a head start early Monday morning so you can be back for the weekend.