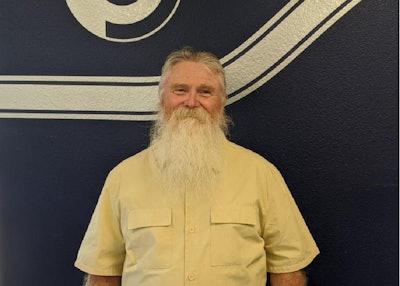 EDITOR'S NOTE: This is the first in a series of feature profiles of the three finalists for the Company Driver of the Year Award presented by the Truckload Carriers Association and Truckers News. Stories about Robert Cole and Robert Howell, the other two finalists, will appear in the coming days. The winner, who will be announced at the TCA's annual convention in Las Vegas later this month, receives $25,000. The runners up each get $2,500. The contest, and one for the Owner-Operator of the Year presented by TCA and Overdrive, are sponsored by Love's Travel Stops and Cummins.
___
Denny Cravener can credit the beginning of his long, successful trucking career to an unlikely source: his high school shop teacher in Norfolk, Virginia.
One day in class the teacher announced a local trucking company was looking for someone to help out in its warehouse. Cravener, whose father had just returned from a military tour in Vietnam, hightailed it to Givens Trucking and started doing odd jobs part-time.
"I felt I had just stepped into heaven," said Cravener, who was a junior in high school at the time. He was too young to drive, so he started doing just about anything else.
Cravener recalls he loaded trailers and then started moving them around the yard at Givens so he could load more of them.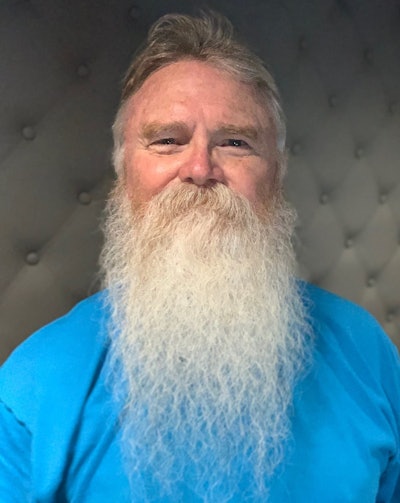 "The next thing I know, the owner of the company says to me, 'We need a trailer moved across town. You can drive a truck right?' I said, 'Yes, sir,' but didn't mention I didn't have a chauffeur's license (which was required in those days before the CDL). He said, 'Well, take this to the warehouse.'"
A well-meaning shipping clerk reminded Cravener he did not have the required license. But, the soon-to-be new driver reminded the shipping clerk that he was only doing what the owner had said to do.
"I went down there, made the delivery, came back and, buddy, I was just waiting for someone to retire," said Cravener.
He recalls he made that 6-mile, life-changing drive between Norfolk and Chesapeake, Virginia in 1973 in a '72 International TranStar. He took the trailer over and bobtailed back, something he had never done before.
Cravener jokes about his youthful excitement.
"I just made a nuisance of myself hanging around the guys when they came in, asking a lot of questions about the road and, and everything," Cravener said.
Not only was that Cravener's start as a truck driver, but also his long and storied career with Givens Trucking.
"I've only ever drawn a paycheck from one company in almost 50 years," said Cravener. "Never have worked anywhere else.
"I was gonna drive a truck no matter what. And every time they needed something, I was your man. I did odd jobs for Mr. (Gerald) Givens at his house and he took me under his wing. He was like a second father to me. He was an awesome individual, and I'm actually working for his granddaughter now."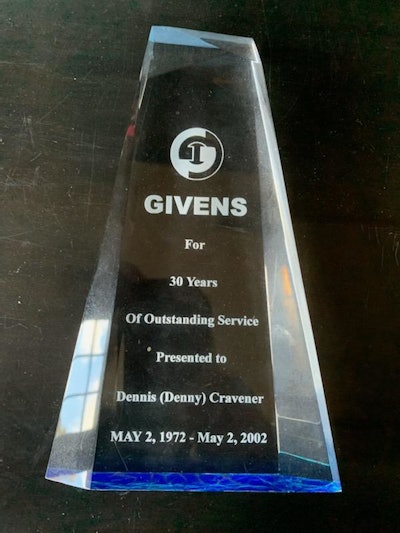 In Cravener's earliest driving days, he ran strictly local, making trips to the pier to pick up cargo unloaded from ships, and take it by flatbed back to a Givens warehouse.
Givens had just five over-the-road trucks at the time. So, when another driver retired in 1976, Cravener lept at the chance to climb in the cab of a single-axle International and deliver Honda motorcycles to eastern Tennessee.
That set Cravener on the career path he still enjoys today. Come May 2, he will have passed 50 years as a trucker and logged over 6 million miles. While he's been to and through 48 states, most of his career has been spent delivering Honda motorcycles and other vehicles east of the Mississippi River.
Cravener still appreciates what the job and working for Givens have afforded him.
"This has enabled me to raise three children," said Cravener. "I have four grandchildren. My house is paid off. I have two nice vehicles that I can drive. And I do what I love. And my wife has been able to stand me for this many years."
Yes, Cravener loves what he does, but he's also aware of the demands of the road.
He said that adjusting to the steady flow of new technology has been a major demand, but he is even philosophical about that; like the arrival of electronic logging devices.
"One of the biggest challenges in the trucking industry for drivers is when they change the regulations," said Cravener, who has seen his fair share of regulatory change. "At first, when they changed the logs, you say to yourself, 'Man, this is getting so restricted,' and everything. And the first few times that sort of thing happened. I did think, "Oh, this is just too much." But, then I had to talk with a terminal manager and a few other people in other industries, and learned that your best option is to embrace technology because things will go so much smoother because it is gonna happen."
And, there's a concern too well known to truckers no matter how long they have been driving.
"Number one thing, parking," said Cravener. "It's so hard to find a place to park. I'm so fortunate that the places that I go to, I'm able to park there, but a fellow that's coming from somewhere else and is dealing with different customers all the time. Their number one thing is parking."
Plus, the COVID pandemic has been especially hard for truckers, even a well-season pro like Cravener.
"For many drivers, you're not always dealing (face-to-face) with the people inside," said Cravener. "You're outside. So it's like, 'Come in, back up, open your doors. When the light goes green, pull out, close your doors, see you later,' you know?"
But, Cravener gladly keeps driving. He said he is fortunate that Givens is a company of modest size so drivers are anxious to help each other out. And, the folks who operate the company also value what Cravener and the other drivers do. In his time with Givens, he has seen the company keep pace with not just technology, but with equipment, pay, bonuses, and benefits.
"My company is always trying to be a step ahead," said Cravener. "I feel so fortunate to have benefited by staying in one place."
But, how much longer will Cravener's stay with Givens last?
Cravener said he is known within his family as a workaholic, a title he readily embraces not just because he loves what he does, but he also feels a strong sense of responsibility to Givens. But, what do workaholics do after 50 years on the job?
"What are my plans?" asks Cravener. "One of my plans is to never quit driving, but maybe, take more time off. I have a camper that since COVID started, I haven't been able to use because it canceled a lot of my plans. But, I want to go camping a lot more with my grandkids, which I've done since I've had it.
"But, I always feel like I never want to lose my license. I always wanna keep that active. The company told me that, whatever I want to do, I can do it. So, I'm always thinking I'll be working part-time. Take a couple of months off, come back to work, you know?
But, no matter how much Cravener ends up driving, for sure he will continue to do those things that have made him a long-term success in a demanding business that is not always known for employees hanging on for years, let alone decades as Cravener has.
His secret to success?
"I try to please everyone that I talk to, so someone goes down the road and talks about me. I want them to have a pleasant thought about my company, and about me," he said. "I always want to do things for other people now. I don't feel like that's something to be rewarded for. But if you have someone come to you and say, 'Glad to see you,' it makes your day."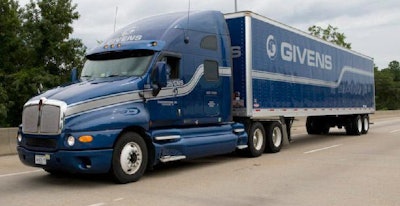 Recommendation from
Trevor Dunlap
President, Givens Transportation
Dennis Cravener loves trucking and frankly, he is damn good at it. We are once again thrilled to support Deny for the TCA Company Driver of the Year award. Denny is a fantastic ambassador for our industry, constantly setting the example for what it means to be a professional driver. For just shy of 50 years Denny has embraced and exemplified the Givens values of Integrity, Family, and Drive.
This year Dennis crossed the six-million-mile mark, but that number doesn't do justice to what he has done for our industry. His individual reliability and productivity make him a great driver. However, it is his initiative and mentorship that truly makes him special. Whether it's working with the maintenance team directly to make safety improvements to the tractors or generating backhaul leads himself, Denny is constantly on the lookout for how to be safer and more efficient on the road. These are the things that make him incredible as an individual, but his real value is in the mentorship he has provided to less experienced drivers.
It is impossible to know exactly how many driver miles Denny has impacted. Taking into consideration the number of drivers he has influenced throughout his career it's easily in the hundreds of millions. Professional drivers lead by example, which Denny certainly does, but the truly special ones seek out opportunities to help others and let them learn from his experiences. Every driver at Givens for as long as anyone can remember has had Denny's phone number. He regularly reaches out to make sure the newest drivers have what they need and know what they are doing. Denny has been instrumental in developing a generation of drivers at Givens. More than just being a positive representation of the company to drivers, Denny has been an incredible representative of our industry in general.
Denny absolutely loves being a driver. As a finalist for this award last year he had the privileged opportunity to participate in the TCA convention and explore the expo hall. He was fascinated by all the vendors, intimately familiar with many, and excited to learn about the others. I think a few got the best feedback they could hope for as he readily shared his real-world experiences and how their product or service might fare out on the road or with the driver community. It's this kind of engaged and sharing attitude that has made Denny a great mentor driver.
Denny will tell you he loves being on the road and helping customers. He will also tell you that his profession has allowed him to support his family in ways he could only dream of as a child. There is nothing better for our industry than professionals like Denny that aren't afraid to share their story of working hard, loving what they do, and appreciating the kind of truly meaningful life you can have as a driver on and off the road. Denny shares this with younger drivers, non-driver employees of Givens, customers, and anyone that asks him what he does for a living. Many TCA vendors got this experience in the expo last year. As an individual, he enhances the public image of trucking with everyone he comes into contact with and as a mentor of other drivers his influence on the industry is much greater.
The things that make Denny a great driver are the same things that make him a truly special man. He is a wonderful father to three children, grandfather to four, and devoted husband to the love of his life. The nature of professional driving makes home life challenging, but Denny has always prioritized making it work. When he is off the road you will most likely find Denny cheering on his kids (and now grandkids) at one of their sporting events. In addition to mentoring drivers, Denny's legacy will certainly be carried on by his three successful children that are a clear result of a strong family and exceptional parenting. The draw of his grandkids has only gotten stronger and Denny is ready to go out on top likely retiring at the end of 2022.
Last year Givens was proud to support Denny for Driver of the Year because of his long history of exemplary performance and also because of the incredible job he did throughout the toughest times of the pandemic. Although some of the Covid related lockdown challenges have subsided, plenty of challenges still exist for our professional drivers. Denny has been facing challenges like these for a long time and he has never wavered from his commitments to his family, Givens, and to being the best driver he can be. Last year we were proud of Denny for being named runner up for this contest, but to us he has been the Driver of the Year at Givens every year for almost 50 years. I am excited to support Denny's nomination again this year and I know there is no one better than him to represent TCA and our industry.