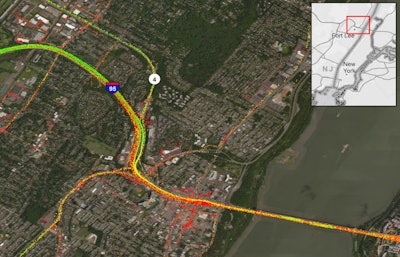 Many truckers grumble about driving to or through the Northeast, especially when having to deliver in or around New York City. Some trucking companies will not require drivers to take loads there and some even pay a bonus to drivers who will go to the city.
One of the big reasons for some of the driver dislike of New York City and its environs is getting to it. Crossing from New Jersey into New York City means traversing the George Washington Bridge, which creates what a new national survey found is the worst freight bottleneck in the U.S.
The latest annual survey by the American Transportation Research Institute released today found the intersection of I-95 and SR 4 in Fort Lee, New Jersey is once again the number one freight bottleneck in the country. It's the fourth year in a row the location tops ATRI's list. The entire top 10 includes:
Fort Lee: I-95 and SR 4
Cincinnati: I-71 at I-75
Houston: I-45 at I-69/US 59
Atlanta: I-285 at I-85 (North)
Atlanta: I-20 at I-285 (West)
Chicago: I-290 at I-90/I-94
Los Angeles: SR 60 at SR 57
Dallas: I-45 at I-30
San Bernardino, California: I-10 at I-15
Chattanooga, Tennessee: I-75 at I-24
The ATRI survey measures the level of truck-involved congestion at over 300 locations on the national highway system. The analysis is based on truck GPS data from over 1 million freight trucks.
ATRI's analysis, which utilized data from 2021, found traffic levels rebounded across the country as more Americans returned to work and consumer demand for goods and services continued to grow. Average rush hour truck speeds were 38.6 MPH, down more than 11 percent from the previous year, according to ATRI.