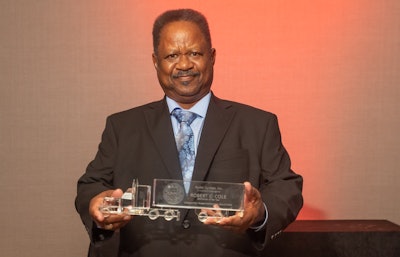 EDITOR'S NOTE: This is the first in a series of feature profiles of the three finalists for the Company Driver of the Year Award presented by the Truckload Carriers Association and Truckers News. You can read stories about Denny Cravener and Robert Howell, the other two finalists. The winner, who will be announced at the TCA's annual convention in Las Vegas in March, receives $25,000. The runners up each get $2,500. The contest, and one for the Owner-Operator of the Year presented by TCA and Overdrive, are sponsored by Love's Travel Stops and Cummins.
___
After graduating from high school in 1969, Robert Cole was not of a mind to start a career in trucking. His boss had other ideas.
Cole was just 19 and spent his days loading product onto the one trailer of the ice cream maker for who he worked. That was until his boss said the company's one driver had quit, and Cole would be making that day's deliveries.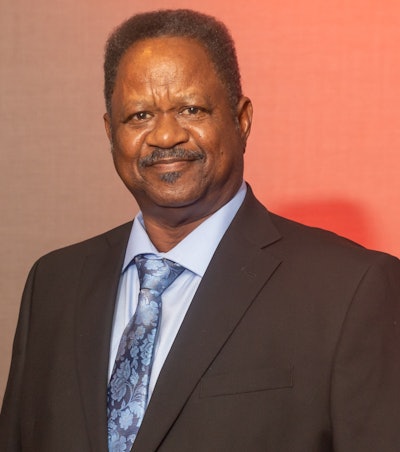 "I said, 'Man, I've never been on the road.", said Cole who is 73 years old and lives in Houston and today drives for Ryder serving Houston Plating and Coatings. "I always just pulled the trailer away from the door. That's all. He told me, 'Get out that gate and don't look back.' and I did."
While he had never been on the road, Cole said he knew how to shift the truck having "played with it" in the yard. But, never had he driven any distance with a trailer.
Cole recalls delivering ice cream that day in an old International Transtar. Three of his deliveries that day were simple: pull up beside the dock, no backing. Cole said he had no problem doing that.
He had a pickup at a Georgia Pacific plant. It had 100 doors and he was directed to the 60th. It took him a while, but he managed to back into his spot, which Cole recalls had about three inches of clearance for each mirror.
"I mean, it was narrow, but I made it," said Cole, still proud of his accomplishment all these years later. "That was it. I've been driving ever since."
Cole said he spent between seven and eight years driving for that creamery. Then, like many drivers new to the profession, Cole said he drove for several other companies for a few years each. Then he signed on for 13 years with one company and 20 years for a food distributor in Houston. Cole has been driving for Ryder since 1997.
"Yes, I've been driving all my life and I just love driving," said Cole in reflection.
Today, most of Cole's driving is city driving in Houston, doing pickups and deliveries for Houston Plating and Coatings. However, he also has a weekly run to Louisiana, which gets him off crowded city streets and onto an interstate, something he vastly prefers.
Driving in city traffic is demanding and comes with its own set of concerns.
"City driving means more traffic," said Cole. "I see accidents every day. Everybody in Houston is in a hurry. They'll just run over you if you go too slow."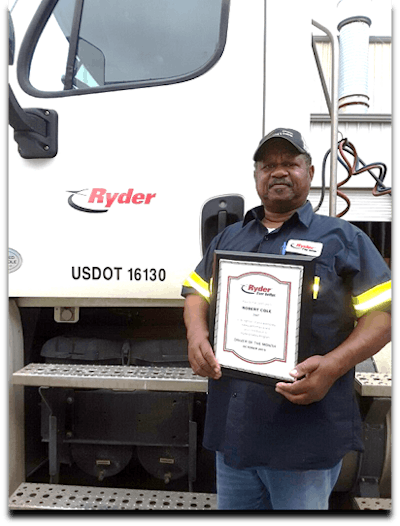 That's why he enjoys his interstate runs to Louisiana; they let him get away from the much more crowded streets.
However, his city driving has also made him an especially safety-conscious driver.
"This has made me even more responsible as a driver," said Cole. "I have a family that I want to come home to every day. I'm blessed, I've never been involved in an accident after all these years."
He said he's fortunate to drive for Ryder, which has a strong corporate focus on safety, paying drivers $250 quarterly bonuses for safe driving.
Part of the process of being nominated for the Company Driver of the Year Award is an evaluation of the nominated driver's outlook about safety. Cole's practical view on that topic is one from which most drivers could benefit.
"I've been a professional driver for many years and every day is a different day. It could be challenging at times but you just have to remember safety first! Being safe and keeping a positive attitude is how I make it through easy or difficult days.
"I aim high in steering and keep my eyes moving at all times. Just like if I'm aiming a dart at a dartboard, I'm aiming straight for the center. By doing this, it helps me to center my vehicle in traffic lanes.
"It's important for me to know what's going on in front of me and look every two seconds and behind me every five seconds. What this does for me is, it keeps me alive at intersections and my eyes ahead of the vehicle. When stopped at intersections, I always look left and right twice and check my rearview mirrors. Then count 1-2-3 after the vehicle ahead has started to move.
"There have been a few times that I had to leave myself an out; meaning have an escape route or plan and take the path of least resistance. I scan steering wheels and look to see whether cars at the curbs are occupied. I'm always prepared and expect the unexpected because things happen all the time on the road. It's up to me to make smart and safe decisions like making sure there's space on all four sides of my vehicle, especially the front. I make sure they see me. I do that by communicating in traffic using my horn or light signals. It helps to establish eye to eye contact.
"When stopped in traffic, I keep a car length of space in front of me at all times and this gives me room to go around the vehicle if it may be stalled."
Cole also said it's important to "get the big picture when driving on the road or freeway." That means to be aware of and alert to road conditions.
"Sometimes there's all types of objects or holes in the ground, but It's up to me to determine how wide and deep it is, and to Identify the ground hazards or random objects that may be in the road," he said. "By identifying the objects, it provides for smooth stops and turns. I stay back and see it all. I take my time and never go over the speed limit. Four to six seconds following time for speeds under 30 mph, six to eight seconds for speeds over 30 mph. By doing this, it keeps me from getting (fixated) on the car ahead and allows me time to obtain and hold the proper eye lead time."
For Cole, staying safe also means staying healthy at home or on the road. He said he gets seven to eight hours of sleep each night to ensure he is well rested when he has to drive the next day.
"Also maintaining a healthy diet is important to me," said Cole. "I eat breakfast before my shift and lunch every day while on the road. I also like to make sure I have plenty of fluids with me like water to stay hydrated and alert.
"I go on weekly walks around my neighborhood to get extra exercise. This also helps in other aspects of my life affecting my physical and mental well-being."
But, Cole is much more than a professional driver. He has an important and rewarding life outside his truck.
Cole and his wife Evelyn, who he married 48 years ago, have eight children and 24 grandchildren.
Cole said he is also active in his church, Emmanuel Church of God in Christ, and his faith travels with him when he is on the road.
"I say a little prayer every day before I start driving, asking God to bring me home safely," said Cole. He also said he feels blessed to be in good health and still driving at his age.
Cole also said he has no plans to retire any time soon.
"If I ever do stop driving a truck, I probably will drive a bus or something else," said Cole.
Recommendation
T.J. Henley Logistics Manager
Houston Plating
It is with great pleasure that I nominate Robert Cole for the Driver of the Year. I have had the pleasure of working with Mr. Cole for the past year and I can attest to the fact that he is a top-notch Ryder driver. Speaking to Robert and working with him daily, you can quickly see that his personal values align with Ryder's principles of business conduct.
Houston Plating relies on our drivers to deliver on the promises they have made to their customers and Mr. Cole believes in doing the best job that he can to ensure that. Every day, Mr. Cole exercises good judgment is safety-minded, and treats everyone fairly. He shows great respect to everyone around him, always dependable and on time. Leaving no wonder about why everyone who knows him loves him. It is an honor to work with this man and I am proud to have him on my team.